"
Useless, useless!!! (

無駄 無駄!!!

Muda Muda!!!)
"

—Dio Brando's battle cry
Dio Brando (ディオ・ブランドー, Dio Burandō), known simply as DIO (DIO) from Part 3 onwards, is the main antagonist of both Phantom Blood and Stardust Crusaders, and a posthumous character in Stone Ocean who is responsible for antagonist Enrico Pucci's descent into villainy.
Originally a man of low birth but peerless ambition, Dio is a villain of little conscience, vast cunning, and an insatiable hunger for power. After becoming a vampire and later a Stand user, Dio has gathered around him many minions and is responsible for many major events of the series, from the death of Jonathan Joestar to the Joestar Family's sudden acquisition of Stand power, and his legacy persists throughout the series.
Dio is the father of Giorno Giovanna, the protagonist of Vento Aureo, as well as a handful of other illegitimate offspring.
Childhood
When he first arrives at the Joestar Estate, Dio is seen wearing typical formal boy's attire from that era; a blue coat, white dress shirt, a tie, suspenders, breeches, and a pair of striped socks. He has blond hair and a handsome face. He also has 3 moles on the lobule of his left ear.
Adulthood
Aside from replacing his coat with a vest, Dio's attire hasn't had much change. However, his overall physique and height have increased significantly. During the events where Jonathan sets out to find the antidote for his father's illness, Dio dons a top hat and a new, flamboyant-looking cloak that has feathers jutting out of the shoulders.
Vampire
Dio undergoes drastic physical changes upon using the Stone Mask to transform himself into a vampire. His formerly-clean hair becomes messy and unkempt, his eyes become sharper and adopt a darker outline, and he develops fangs. His clothing has changed quite a bit as well after his first battle with Jonathan; most noticeable is the scarf around his neck. He wears an ornate dual-colored shirt and matching breeches, a large pair of boots, vambraces, and two suspenders attached to a band around his waist.
Color Schemes
The series is known for alternating colors between media, the information presented below may or may not be canon.
This section requires expansion.
Eyes: Gold
Hair: Blond
Outfits:
Eyes: Orange (Human), Red (Vampire)
Hair: Blond
Outfits:
Shadow / Hidden
DIO does not have a visible face as an effect of the shadowy darkness of his mansion. He has shoulder-length blond hair and is topless, exposing Jonathan's muscular body (on which his head is sewn in place) He wears pants with suspenders, clogs, shiny cuffs on both wrists, and heart-shaped knee guards. In the game JoJo's Bizarre Adventure: Heritage for the Future, his voice is also distorted (an effect created by the developers to add a sense of mystery). This form of DIO is also called "The Evil Incarnation DIO".
Revealed
Incorporating his previous outfit, DIO's dons a jacket with a tight tank-top underneath, as well as chaps with an exposed crotch. His face is now in full-view, and on his head is a heart-shaped circlet to match his knee guards. This is his form during the beginning of the DIO's World story arc. In most depictions of him, DIO's outfit is tinted orange or yellow.
He also wears a necklace covering his neck scar and heart motifs above his feet and on his pant legs, but he quickly stopped sporting them after his first stairway confrontation with Polnareff.
When pursuing the Joestar group, DIO donned a cloak that he had discarded during his confrontation with Kakyoin.
Empowered
DIO nears his physical peak after draining Joseph Joestar's blood. His appearance now is similar to his revealed form, minus the jacket and the heart-shaped headband that was destroyed by Star Platinum's attacks. He now sports a deranged and homicidal look and mannerisms, having lost his suave touch. His hair is now disheveled and mostly oriented upwards, while his lips are darker and seem adorned with lipstick. This is his main form during the latter half of the DIO's World story arc, often called his 'High' or 'Awakened' form.
Color Schemes
The series is known for alternating colors between media, the information presented below may or may not be canon.
This section requires expansion.
Eyes: Gold
Hair: Blond
Outfits:
Eyes: Gold, Red (Empowered)
Hair: Blond
Outfits:
Manga Appearances
Chapters in order of appearance
Anime Appearances
Episodes in order of appearance
↑ The Mist of Emptiness, Vanilla Ice - Vol.9 "Shueisha Jump Remix Stardust Crusaders Edition" P170 The Secret of JOJO Characters
↑ SO Chapter 152: Made in Heaven (4) (Note: Originally 1988; Changed in later chapters)
↑ Chapter 440: Gold Experience (1), p.11
↑ Chapter 6: A Letter From The Past, p.8
Main Antagonists
Dio's most recognizable characteristics are his boundless ambition and his love of power. Abused by his father and having lived in the most miserable living conditions,[8] Dio set for himself the goal of becoming the richest, then the most powerful being on Earth. To do so, Dio used anything or anyone that he could in order to further his goals, disregarding any kind of morality that would restrain the range of actions available to him. Using either manipulation, seduction, or plain violence, Dio constantly sought to become more and more powerful. Dio enjoys being in a position of power[9][10] and has repeatedly stated how great he felt being in a dominating position. On the contrary, Dio never tolerated that someone could stand up to him or equal him in power, and was several times enraged and deeply disturbed at the thought.
Throughout his life, Dio has tended to surround himself with witless cronies and later minions, who were attracted by his natural charisma. Not thinking much of them at first, he then selected those he deemed as particularly evil, claiming that an evil person wasn't bound by rules such as honor and thus were stronger mentally. This belief culminated in including the absorption of 36 souls of sinners, or, as he claims, particularly strong souls, to unlock a power greater than that of his Stand, The World.
Naturally, Dio is an incredibly-selfish person, only looking over his own interest and overlooking those of others at best, trampling them on the ground at worst. Due to his composed nature, Dio can and will openly offer himself to any gender, using any method, as long as the person suits his present desires. Since he is selfishly interested in their capabilities, however, Dio is the type who is incapable of loving another person wholeheartedly.[11] The only people he can be said to have held some type of affection for were his mother, Jonathan Joestar, and Enrico Pucci; Dio recognizing Jonathan's worth as equal to his own, and having been friends with Pucci. Still, Dio stole the former's body and his friendship with the latter was nonetheless merely a part of a grander plan to further himself.
When interacting with someone, Dio will constantly try to manipulate them and sway them into his side, using a veneer of gentleness and his natural charm to make people admire and like him. For instance, he acted the model son and popular charismatic friend to Jonathan's father and entourage to better isolate him, and as a Vampire, his charisma only increased as he appeared as a charming mysterious individual. However, his natural arrogance would lead him to openly insult and belittle his enemies, notably disparaging their insignificant strength before his vampiric or Stand powers.
Dio approaches obstacles and problems in a number of ways depending on the situation and his mood. When he was human, Dio was careful and methodical in trying to break Jonathan's spirit and slowly poisoned George for a sizeable period of time, only being thwarted due to unlucky twists of fate. As a Vampire, DIO at first let his arrogance get the better of him and took a laissez-faire approach, only sending subordinates to kill the Joestar Group while he rested and recovered. However, his defeat by Jonathan taught him to be wary of the Joestar Family in its entirety, thus he would later ambush Jonathan and, during the events of Stardust Crusaders, send his minions to delay the Joestars as much as possible to recover strength. During his final battle, his wariness, tactical acumen and arrogance would clash to make Dio alternate between meticulous approach and planning and reckless attacks.
In Phantom Blood, Dio is ambitious, arrogant, and megalomaniacal, seemingly able to do anything to achieve his aims.
His natural ruthlessness is exposed very early when plans to exploit the Joestar family despite them being kind enough to adopt him.[12] In order to place himself in a better position to replace Jonathan Joestar and obtain the Joestar family fortune, Dio used the most underhanded means to break him mentally. These methods included: humiliating Jonathan in public sport fighting, ostracizing him from his friends,[9] and finally stealing Erina Pendleton's first kiss to drive a wedge in their budding relationship.[13] When he is eventually foiled, Dio opted to slowly poison George Joestar I and kill Jonathan with the Stone Mask to make both deaths seem natural and accidental.[14] Dio has shown a remarkable determination to reach his goal, never losing his drive despite the numerous defeats he suffers throughout Phantom Blood and always tried to find a way to get back at Jonathan for them.
Dio's lack of empathy is also apparent, since despite having lived for years with the kind Joestars, he never thought of them as anything more than obstacles, and is hinted to utterly resent the upper class he frequents. Dio had been maintaining a facade of a charming and agreeable person to everyone save Jonathan, yet never came close to anyone. At the end of the part, the only person Dio appreciated was Jonathan Joestar himself, begrudgingly acknowledging his valor as his archenemy[15] and "granting" him a painless death, and was even shocked to see him die.[16] Overjoyed to have changed into a powerful vampire, Dio spent his battles taunting various humans about their weaknesses and belittling them in favor of the apex predator vampires. Dio also sadistically changed a mother into a zombie just to watch her devour her own baby. When in a position of strength, he also tends to torment them further, such as sneakily sticking his thumb into Jonathan's eye during a punch.[9]
Dio shows a lack of restraint in his violence, and is prone to murderous outbursts even as far as his childhood, notably trying to stab Jonathan when he beat him up, and violently slapping Erina.[10] He was also incredibly cruel to Jonathan's dog, Danny, going so far as kicking him on their first meeting.[12] When Dio was defeated by Jonathan, Dio secretly had Danny incinerated. He is shown to be utterly enraged when someone stands up to him, which is the cause for his outbursts. He himself acknowledged that his anger was a weakness,[17] but would be all his life unable to truly control himself.
Dio's personality could be explained by his poor childhood and the abusive relationship he shared with his father, Dario Brando. Speedwagon, however, rejected this as the cause of Dio's personality, claiming that Dio was simply born this way, and that his poverty had nothing to do with it. True to that, Dio was already an immoral person but then openly relinquishes his humanity in favor of becoming a vampire upon being cornered by the police.[18] He trades his underhanded scheming persona for a more arrogant and hedonistic personality that is dismissive of humanity and revels in evil. Nonetheless, Dio respects determination and said much to Jonathan that his determination was equal to his own, earning him the dubious honor of serving as Dio's new host, after Dio was reduced by Jonathan to a head.[19]
Dio's potential for empathy is implied in both the manga and the anime, when Dio is shown to have killed his own father out of revenge for the abuse against his mother, rather than as a step in his scheme to rise in society.
Dio has expressed hatred for dogs, considering them vermin.[9]
"
Everyone survives in pursuit of peace of mind. ... Aren't you uneasy, preparing to fight me, knowing you may die? ... If you join me, I will give you peace of mind that will last forever.
"

—DIO to Polnareff, Chapter 248
Reappearing in Stardust Crusaders, DIO did not change much since his burial at the bottom of the ocean for one hundred years, as he remained a remorseless and murderous megalomaniac, but nonetheless he had matured a little by recognizing valor in others and being generally more calm and level-headed.
DIO does not appear frequently in Stardust Crusaders except towards the end, but is seen discussing various philosophies with Stand users he wishes to recruit, and with his already-loyal followers, particularly Enya the Hag who serves as his main adviser. It seems equally likely that DIO does this to manipulate and persuade as that he believes what he says, but nonetheless acknowledges the power and valor simple humans can have, notably respecting one's willingness to die for his goal. Wishing to quickly dispose of the Joestars, he listened to Enya and was told that she'd already sent agents to deal with them, and quietly rested in his mansion to gain more strength. Furthermore, DIO learned his lesson and stops underestimating his opponents, being particularly careful around the Joestar bloodline. He nonetheless sneered at other Stand Users' efforts to fight him, most notably Kakyoin's, whose discovery ended up being crucial in his defeat.
This time, DIO is far more calm and collected. Maybe due to knowing that his Stand The World is far above anyone's reach, DIO is more tolerant of people resisting him, and didn't react to Polnareff's taunts and insults. He even seems to appreciate Hol Horse's insubordination, which confirms the mercenary's strength, and let him go try to assassinate Jotaro. However, DIO is still callous about human life and killed anyone who would fail him, even Enya—who was, again, his closest adviser. The usually confident and cunning gambler Daniel D'Arby was driven to madness when he couldn't handle the pressure of possibly revealing DIO's Stand ability to Jotaro.
True to himself, DIO is enjoying the fact that he is wielding the most powerful Stand in his organization, being unconcerned by the heroes' effort to discover his power as he thinks they are meaningless. When Jotaro reveals himself to be able to move within the stopped time, DIO is initially very distraught but recomposes himself quickly, devising other plans to get rid of Jotaro by exploiting his advantage. The full scale of his insanity is visible when, overjoyed to have completely fused with Jonathan's body and being at full power, DIO declares that he was experiencing "the greatest high" and delightfully drills his index finger into his skull. His final speech exposes that he is still willing to use any way to win and despises any concept of honor or revenge, ultimately using a cheap trick to blind Jotaro momentarily.
"
...Beyond the powers of my Stand is where you need to go in order to find Heaven. What you need is a trustworthy friend ... Will I, DIO, be able to meet someone like this one day?
"
In flashbacks placed before the events of Part 3, DIO demonstrates a burgeoning ability to be genuinely nice to another person in numerous conversations with Enrico Pucci. Intrigued by Pucci, who let him be despite suspiciously hiding in a church, DIO healed his crooked foot, a kind gesture, and gave him the head of an Arrow, which would grant him his own Stand, Whitesnake. During these flashbacks, DIO is seen peacefully chatting about random trivia, and confessing to Pucci that the priest could make him be at peace. Once daring Pucci to steal his Stand, to Pucci's refusal, DIO thanked him for his fidelity, and even admitted that he feared the thought of Pucci betraying him.
It is debatable how good a friend DIO truly was, considering Pucci's good-willed nature during his youth directly opposing his later evilness and zealotry. DIO also seems to have built that friendship to further his ambitions, which calls into question how sincere it was. It is implied that he wanted to use his Stand to create a perfect world for himself and a handful of subordinates. He enlisted Pucci as his living "conscience", in case he would go crazy and veer "off track".
(The information below derives from a Light Novel not written by Araki. As such, it may or may not be considered canon.)
JoJo's Bizarre Adventure: Over Heaven offers an interpretation of Dio Brando's character by mixing elements present in the original material and plot points introduced by the light novel. Most notably, Dio's fixation on heaven is explained as the result of the influence his dead mother had on him. In the novel, Dio is presented as having developed past his megalomaniac self and began an introspection about his life and his growth.
This section requires expansion.
This section requires expansion.
Relationships in Eyes of Heaven
(The information below derives from a Video Game not written by Araki. As such, it may not be considered canon.)
↑ The Mist of Emptiness, Vanilla Ice - Vol.9 "Shueisha Jump Remix Stardust Crusaders Edition" P170 The Secret of JOJO Characters
↑ SO Chapter 152: Made in Heaven (4) (Note: Originally 1988; Changed in later chapters)
↑ Chapter 440: Gold Experience (1), p.11
↑ Chapter 6: A Letter From The Past, p.8
↑ Chapter 7, A Letter from the Past 2
↑ 9.0 9.1 9.2 9.3 Chapter 2, Dio Brando the Invader Part 1

quote "I like being number one. You hear that? I won't let anyone swagger over me!"
quote: "I hate dogs! They're filthy vermin who don't know their place!"

↑ 10.0 10.1 Chapter 4, Dio Brando the Invader Part 3quote: "Alright! I'm burning with power, I love this feeling!"
↑ Chapter 3, Dio Brando the Invader Part 2
↑ Chapter 42, Fire and Ice, Jonathan and Dio Part 4
↑ Chapter 44, Fire and Ice, Jonathan and Dio Part 6
↑ Chapter 5, Dio Brando the Invader Part 4quote: "... my anger is my weak point, I'll have to do something about it! I need to control myself and be calm and composed."
↑ Chapter 11, The Stone Mask Part 4
↑ Chapter 42, Fire and Ice, Jonathan and DIO Part 4
Main article: The World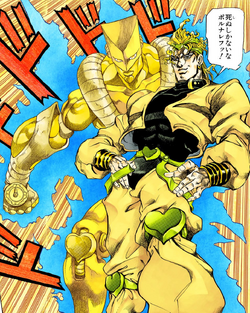 DIO's
Stand
is the humanoid The World; facilitating melee attack roughly equal, if not even superior, in its immense force and speed to Jotaro Kujo's
Star Platinum
.
About a year after gaining his Stand, DIO discovered that it is capable of stopping time. At first, he could only do this for a very short amount of time, but by the end of Part 3, he is able to stop time for a maximum of 9 seconds.[1] This duration would have continued to develop had DIO not been defeated. When stopping time, DIO gives the impression that he is teleporting or otherwise moving at impossible speeds.
The ability is best known for DIO's activation and cancellation phrases THE WORLD, Time, stop! (世界! 時よ止まれ!, Za Warudo! Toki yo Tomare!) and Time resumes. (時は動き出す, Toki wa Ugokidasu).
Having had ample time to rest and train with The World, DIO is shown to have been thorough in exploring his Stand's abilities. Case in point, it was during an experiment session during which DIO sought to test the limit of The World's speed that he discovered his time stop ability.
To give himself an advantage, DIO has tried to keep the ability of The World a secret, only using it at key moments to psych out an opponent and perform incomprehensible sneak attacks, as well as only trusting its secret to a few confidants such as Enya the Hag and not hesitating to eliminate her as soon as she remotely risked to inform the Joestars of his timestop power. However, as soon as they understood its ability, DIO dropped the secret and showed a great degree of confidence about the supremacy of his power, ultimately not caring about his secret as he was convinced that no one could do anything about it. Thus, he began to liberally stop time against Jotaro. Thanks to the free time-frame of action granted by The World, DIO has made it possible to instantly reposition himself to avoid attacks or set himself up to attack, kill enemies instantly, or even displace his opponents to toy with them.
DIO has shown a high degree of control over The World, using it to battle Jotaro's Star Platinum to a standstill, but showing superior technique in hand to hand combat by using low kicks to unbalance Star Platinum or feints to out-punch Star Platinum. However, his Vampire constitution means that DIO never showed the same care at using The World defensively at he preferred to avoid being hit at all and regenerate by sucking blood.
Unlike practically every other Stand User, DIO has sought to improve his Stand's capabilities. He notably wanted the Joestar to come to him so that he could suck the blood of a Joestar and sync himself up with Jonathan's body to further improve his time stop ability. Araki indeed stated that DIO had the potential to stop time indefinitely. Moreover, DIO had searched a way to unlock a power even more powerful than The World, using esoteric knowledge to divine a plan to create another mightier Stand.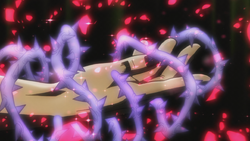 Due to an awakening power within Jonathan Joestar's body,[2] DIO is capable of using a Hermit Purple-like Stand which allows him to create psychic images, be it on photographs or crystal balls. Due to the connection he has between Jonathan's body and his descendants, DIO is also able to sense the presence of other Joestars and can use this to track their position. He is even able to tell when Joseph uses Hermit Purple to take a psychic photograph of him, and instinctively knew that his acquisition of a Stand also awoke Stand abilities in Jonathan's descendants.
Blazing Fists (MudaMuda)
Blazing Strike
The World, Road Roller[3]
Eye-Crushing Kick[3]
The World, Circle of Knives[3]
The World, Time Stop[3]
The Touch of Evil (Charisma)[4]

Referring to his "Evil Implants"
Main article: Vampire
Becoming a Vampire as a young adult, Dio displays a broad range of fantastic, supernatural abilities; explained as expressions of the full, unbound potential of the human body.
Superhuman Strength: Dio attains massive strength as a Vampire, allowing him feats such as forcibly walking on walls and single-handedly deflecting attacks such as Hierophant Green's Emerald Splash (volleys of substantially-sized emeralds flying at almost bullet speed). After absorbing Joseph's blood he is powerful enough to pick up and drop a steamroller on Jotaro.[5]
Superhuman Speed: Dio also possesses superhuman speed and agility. At one point he was described by Speedwagon being faster than a cheetah.[6]
Superhuman Senses: Demonstrated when placing his head on the ground to hear Jotaro's heartbeat, despite being a few meters away, Dio appears to have senses beyond human level.[7]
Regeneration: Dio can regenerate his body faster than fire can consume it. His incredible vitality is maintained by consuming human beings (or their blood), which he commonly does by piercing them with his fingers. Like all JoJo Vampires, Dio sucks blood through tentacles in his fingers and has been seen at least once drinking blood from an unnamed girl. His body is able to live even after having vital body parts amputated and he can also control his detached body parts. The extent of Dio's own survivability is demonstrated when he could continue as just a head.
Space Ripper Stingy Eyes (空裂眼刺驚, Kūsakume Toge Odoroki, lit. "Space Splitting Eye Spiked Surprise"): Dio is able to pressurize bodily liquid in his eyeballs and then create small openings in his pupils, eventually unleashing two fluid jets (referred to by Straizo as "Space Ripper Stingy Eyes"[8]) powerful enough to slice through stone.
Vaporization Freezing Technique
(

気化冷凍法

Kikareitōhō)
: An ability Dio utilized after learning of the
Ripple
energy and the danger it presents to him. By freezing his blood to subzero temperatures, he can absorb heat from any living being he is in physical contact with and freeze them.
[9]
This ability can be circumvented by
Ripple
being channeled through items and fire. Dio loses this ability after his original body was destroyed.
Fusion: Dio possesses the ability to graft the body parts of different beings together, using this to create half-man half-beast pets. Dio later used this ability to graft his head onto Jonathan's body.
Flesh Buds (肉の芽, Niku no Me, Spores): Introduced in Stardust Crusaders, Dio is able manipulate his hair to create parasites that he can insert into a human's head. The Flesh Bud will pierce through the skull into the part of the brain, making the afflicted compliant to Dio's charisma. As explained by Joseph, the parasite will gradually eat the inflicted's brain. If someone tries to take out the spore, which can prove fatal if it's not carefully removed, the Flesh Bud will sprout tentacles in an attempt to invade the intruder's brain. If the vampire wants, he can give permission to someone to activate the spore's tentacles anytime he wants if close to it. The spores possess another effect in case DIO himself ever dies. According to Keicho Nijimura, his father who was implanted by the spore underwent a mutation into a greenish animalistic form by having DIO's cells inside his body. Presumably, this is a side effect that the rest of the surviving Stand Users that DIO had implanted his spores inside of would suffer from.
Hypnosis: This ability was used twice on Jack the Ripper (anime only) and Poco, respectively. In the case of the former, Dio hypnotized Jack to convince him to join as a servant, allowing Dio to drain his blood and turn him into a zombie. Poco was manipulated to lure Jonathan into a trap, though his consciousness returned after being subjected to Jonathan's Ripple.[10]
Teleportation: Dio also shows the ability to disappear by fading into darkness. Whether or not this may be an actual vampire ability or a result of the use of his Stand is unknown (see below).
Healing: Dio also seems to possess the ability to heal other people's wounds as he was able to completely cure Pucci's wounded foot by simply touching it. However, the origins of this power remain unknown.
All of this, however, is at the expense of having a body sustained by sheer willpower alone, rather than vital energy. A sufficiently powerful force of vitality - specifically sunlight or the Ripple - will negate the sustaining force's presence and disintegrate the long-unliving body.
Intelligence: Dio is naturally intelligent, displaying cunning and perceptiveness as well as imagination repeatedly.
As a child and teenager, Dio Brando managed to achieve academic excellence with ease, having planned to graduate from university as a top law student.
Otherwise Dio is a cunning villain and proficient tactician in combat. Dio almost managed to get away with two murders, bidding his time in order to have a perfect alibi and was only discovered by accident. Upon his return from the bottom of the ocean, DIO built in six years a powerful criminal empire spanning over several continents and which brought him many riches. In a fight, Dio is particularly cunning and perceptive, his ruthlessness making him able to exploit dishonorable and downright inhuman tactics to get ahead, such as leading his enemies into a trap, using hapless civilians as projectiles and sources of energy, or plain sneak attacks. Dio has the habit of analyzing his opponents and determine quickly a counter to their strengths, such as freezing blood in order to stop the flow of the Ripple, or forcing Jotaro's bluff by throwing multiple knives from all direction so that he's forced to act during the stopped time.
Naturally ambitious, Dio constantly seeks to improve himself and meticulously studies his abilities to make the most of them. As such, he developed a freezing power akin to the Pillar Men's Modes in just a month, and in six years, discovered enough about Stands to be able to fuse several together with souls in order to create the ultimate Stand. Arguably his most successful move, Dio experimented on how his vampiric powers allowed him to fuse two organisms together, and used that knowledge to steal Jonathan's body.
Though he doesn't show it often, Dio has become a natural philosopher, arguing about the human condition with multiple people.
Toughness: All prior to becoming a Vampire, Dio was already an able bare-handed fighter; A skill he says he developed in the slums of London. A good amateur sportsman, during a rugby game as a young adult, he is shown to have developed high athletic ability (as well as fantastic muscle mass).
Charisma: Dio is a cunning and charming individual. In addition to Stand Users, whom Avdol and Joseph suggest he recruits through sheer charm or charisma, he has seduced many women through his life.
Knowledge: Throughout both his humble youth and tempestuous maturity, Dio is often seen reading. During his pre-teens, he is seen playing chess with adults. In Part 6, in conversation with Enrico Pucci, he is shown to have accumulated some wisdom within the world of Stands. Importantly, Dio is able to concoct a plan, contained in his diary, incorporating vast, unknown information as to the deliberate creation of Stands of perfectly specific abilities.
"
He IS PURE EVIL, right down to his very bones! Is he a victim of circumstance, you're wondering? Not on your life! He's been evil since he drew his first breath!
"

—Speedwagon, giving Jonathan his assessment on Dio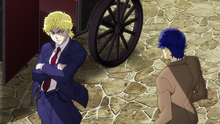 Dio was born the son of Dario Brando, an alcoholic and abusive father who he secretly despised—in part for having caused pain to his mother. It influenced Dio to covertly murder his father with a poison he secured from Wang Chan, learning from his dying father of George Joestar's debt while told take advantage and seize the Joestar fortune.
Once in the Joestar Mansion, Dio wasted no time passing himself as a model gentleman while tormenting his new adoptive brother Jonathan in various ways to break his spirit.[1] But Dio's plan backfires when he forcefully kissed Erina Pendleton to shame her and deny Jonathan a relationship with her. When Jonathan learned of this, he pummels Dio before George intervened. Though Dio retaliated by placing Jonathan's dog Danny in the incinerator, he realized that he needed to change his plans a bit.
Phantom Blood (1888-89)

"
JoJo... if it wasn't for you, I never would have received the power of the Stone Mask... But at the same time, it was your damnable meddling that cost me world domination! If there truly a god pulling the strings, then it is no coincidence our paths intersect.
"

—Dio giving his personal realization to Jonathan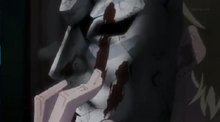 Seven years later, both boys attend Hugh Hudson Academy, where Dio intends to graduate as a top law student. During that seven-year span, he had acted brotherly and friendly toward Jonathan to lull the latter into a false sense of security. Now an adult, Dio decides to make his move and take the Joestar fortune by secretly poisoning George with the same poison he used to kill Dario. Jonathan realized Dio's plot after reading Dario's letter to his father, confirming Dio's intent and leaving his father with trusted physicians as he sets out to find an antidote and concrete proof of Dio's crimes.
Determined not to be stopped, Dio plans to subtly kill Jonathan by staging an accident with the Stone Mask. But upon learning that Jonathan entered Ogre Street, Dio mused he would not need to kill Jonathan himself. While wandering the streets of Liverpool, Dio encounters two drunkards and decides to test the mask anyways. By slitting the throat of one while using the mask on the other, Dio unwittingly transforms one of the drunkards into a Vampire who nearly kills him were it not for a timely sunrise obliterating his attacker. Returning to the Joestar estate, Dio finds Jonathan waiting for him along with Robert E. O. Speedwagon and an ensemble of constables who are to arrest him for attempted murder. Cornered and with nothing left to lose, having intended to kill Jonathan, deals a fatal stab wound to George and uses his blood to activate the Stone Mask. The constables shoot Dio repeatedly through a window, only for him to come back to life as a vampire and slaughter them.
Luring Dio away from Speedwagon, Jonathan battles the vampire while setting his home aflame in hopes that the fire will counter Dio's regeneration. After a short scuffle on the rooftop, Jonathan pushes Dio into the inferno and manages to impale him on a statue of the goddess of love; the combination of such a severe injury and the surrounding flames overpowers Dio, who seemingly burns away. However, a few days later when Wang Chan visits the charred remains of the house to find items to sell for profit, Dio resurfaces and drains his blood while vowing vengeance against Jonathan. After recruiting Jack the Ripper, Dio moves to the rural village of Windknight's Lot where he feeds on the populace to heal his body while building an army of zombies with the intent to take over London. Having sent Wang Chan to assassinate the supposed still recovering Jonathan, Dio is surprised when Wang Chan returns wounded and learns of the only thing besides sunlight that can destroy him: Ripple.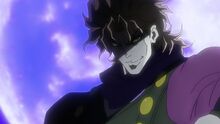 When Jonathan, his Ripple teacher William Anthonio Zeppeli, and Speedwagon reach Windknight's Lot, Dio hypnotizes a local boy named Poco who lures them to a graveyard filled with the undead. Dio reveals himself at this time, have mostly healed his body, and overwhelms Jonathan and Zeppeli by bypassing their Ripple attacks with his freezing ability. He then summons his strongest zombies, Bruford and Tarkus, to finish them off as he takes his leave. It is revealed later that Dio had also taken Poco's Sister, whom he attempts to bribe to join his undead legion. Unsuccessful, Dio leaves her at the mercy of Doobie, but Jonathan intervenes before anything grave happens. Finally, confronting Jonathan and the rest of the Joestar Group, Dio steps in to personally kill Jonathan. Nonetheless, Dire battles Dio first. The Ripple warrior is easily bested by Dio's ice techniques and his body is disintegrated, but Dire manages to injure Dio's eye before expiring. This drives Dio off the edge, summoning his zombies to kill the intruders while he proceeds to fight Jonathan.
In the battle that ensues on a balcony, Jonathan uses Luck & Pluck to sever Dio's right arm and nearly cleave him in half. Dio retaliates by freezing Jonathan's hands through the sword, and threatens to cut Jonathan's carotid. Fortunately, Jonathan had plunged the tip of his sword into a flame behind Dio, and the heat transmitted through the metal weakens the freezing effect. Jonathan breaks free, and Dio breaks Luck & Pluck. As Jonathan is reduced to fighting bare handed, Dio's freezing powers give him the advantage once again. However, Jonathan sets his own fists on fire and Dio, unable to freeze Jonathan's punches, cannot defend himself and is hit on the chest by a powerful Ripple-infused blow. The impact sends Dio flying down a cliff and the Ripple disintegrates his body. Yet Dio manages to sever his own head before the Ripple reaches it and survives the fall; a little later, his head is taken to safety by Wang Chan.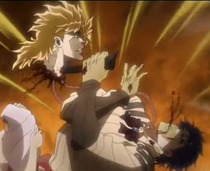 Two weeks later, Dio's head infiltrates the boat the newly married Jonathan and Erina use to travel to America and celebrate their honeymoon. Hidden in a booby-trapped coffin, Dio has Wang Chan cause a zombie epidemic on the ship to lure Jonathan to him. Once making himself known to Jonathan while admitting to had an epiphany that their fates are deeply intertwined, Dio reveals his intention to take Jonathan's body as his own. Dio then shoots beams of eye humor at Jonathan's throat in an attempt to instantly kill him, but the attack only fatally wounded Jonathan with his stopped breathing preventing him from using his Ripple. Regardless, Jonathan uses his remaining Ripple to sabotage the ship to explode in a final attempt to end Dio for good. After putting Erina inside the coffin to protect her from the engine's explosion, Jonathan holds Dio's head in his arms. Dio begs Jonathan to let him live while temping him with eternal life, but realizes too that Jonathan had expired. The sinking ship explodes, though Dio succeeds in taking Jonathan's body and sinks into the depths of the Atlantic Ocean.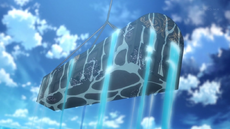 In 1983,[2][3] Dio's casket is recovered off the coast of Africa[4] by fishermen, who are implied to have been killed by him shortly after. Dio then seems to travel a great deal, ranging from Egypt to Japan. Around July–August 1984, he impregnates a Japanese woman who goes on to give birth to Giorno Giovanna. The following year, he meets Enya the Hag and gains a Stand power (The World) as a result of the Bow and Arrow.[3] Later that same year, he encounters Jean Pierre Polnareff and brainwashes him.
In 1988, he first meets Enrico Pucci[5] while hiding in a church waiting for the sun to set. July of that year, he goes on to encounter Muhammad Avdol in Egypt and around the same time, his Stand experiences its first instance of stopping time. In August, he meets Noriaki Kakyoin while the latter is vacationing in Egypt and fights and brainwashes him as well.
Stardust Crusaders (1987-88)

"
Don't you Joestars ever give up?!
"

—DIO to Jotaro after showing The World's superiority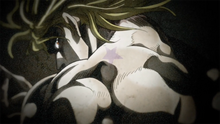 The awakened Dio Brando, now referred to as simply "
DIO
", begins his next moves within the later months of 1987.
[3]
For much of this time, DIO remains in shadows, and the question of exactly what his stand "The World" does is a mystery to the Joestars and their companions. DIO's ambition is to create a perfect world for him and his servants. In the interim, he seeks to drain for himself the blood of the Joestar lineage, which will help him to fully fuse with Jonathan's body and take better control of The World.
Despite his knowledge that Joseph Joestar and allies are looking for him, he does not make any effort to go confront them himself and instead chooses to remain in his mansion reading or feeding on the blood of women. DIO spends a fair amount of time philosophizing in his mansion with Pucci while the protagonists battle their way toward him.[6]
When
Hol Horse
reports on the defeat of
Alessi
and
Mariah
, DIO questions him about his inability to fight, which makes the cowboy turn against DIO. DIO surprises him with his power, leaving a fearful Hol Horse to return to his side. Not long afterwards, when 
Vanilla Ice
comes to inform him of
Telence T. D'Arby
's defeat, Vanilla volunteers his life to complete DIO's assimilation of Jonathan's body and subsequently slices off his own head. DIO then utilizes his own blood to revive Vanilla as a vampire. After Vanilla's defeat, DIO's face is reveals himself before the Joestar group for the first time when he confronts Polnareff on a set of stairs. He toys with Polnareff for a while but when it becomes clear that Polnareff won't rejoin his ranks, DIO prepares to kill him - only to be interrupted by Joseph,
Jotaro
and Kakyoin breaking down a wall and flooding the stairs with sunlight.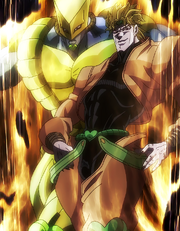 then flees to higher ground. With the sun setting, the remaining Joestar companions split up into two groups and DIO follows Joseph and Kakyoin, who have commandeered a truck. DIO does much the same by taking over a limousine and forcing the senator inside,
Wilson Phillips
, to act as a chauffeur. During the car chase, DIO is attacked by Kakyoin's
Hierophant Green
but comes out unscathed thanks to The World, which he uses to counterattack. In order to get close enough to Joseph and Kakyoin's truck, DIO launches the senator at them, thus resulting in their truck crashing into a building. He then follows them as they use their stands to flee across the rooftops, and ends up battling Kakyoin in the process. Kakyoin is able to use his Stand to make a barrier from which DIO can't escape without getting hurt. DIO uses The World to stop time and destroy the barrier, punching Kakyoin through the stomach and back. Before dying, Kakyoin realizes the nature of The World's time-stop power and uses his last strength to give Joseph a message. DIO wastes no time in catching up to and attacking Joseph, who is able to pass Kakyoin's message to Jotaro before he is also killed by DIO's Stand.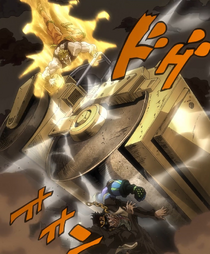 After a long and bloody battle between DIO and Jotaro, the latter is able to stop time just before DIO drops a steamroller on him, and wounds DIO's leg. Jotaro plans to keep on breaking DIO's leg whenever it regenerates until the sun comes up and kills him. DIO, determined not to lose, squirts some blood out of his leg and into Jotaro's eyes. He then attempts to escape but to no avail. In the end, Jotaro lands a punch which connects with a kick from DIO. The kick connects at approximately the same point on The World's leg as where DIO broke his. Because injuries to a Stand and its user echo each other, this is where The World's own structure was weakest. Jotaro's hand breaks but DIO's upper body starts to crumble, and his head shatters. Jotaro and doctors from the
Speedwagon Foundation
are able to do a blood transfusion between Joseph's body and the lower half of DIO's body. The transfusion is able to revive Joseph, and later they lay DIO's remains in the middle of the Sahara Desert to evaporate with the rising sun.
Diamond is Unbreakable (1999)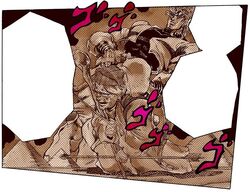 After DIO's death, it is revealed that he, along with Enya, had more affiliates beside those discovered by the Joestar group. The Nijimura Patriarch, like others, sold his soul to DIO and had a flesh bud implanted on his forehead, similar to Polnareff and Kakyoin. However, it burst after DIO's death, mutating him for life. Sometime before Enya died, she gave the Nijimura Patriarch one of the Arrows in their possession which one of his sons used to create Stand users in Morioh. Yoshihiro Kira was also revealed to have been given an Arrow before his death. Kira used this Arrow to create more Stand users in Morioh as well, including his own son Yoshikage.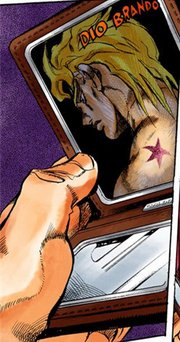 Vento Aureo (2001)
Around twelve years after their battle in Egypt, Jotaro Kujo learns that DIO had at least one child, utilizing Jonathan's body, after his casket was pulled up from the ocean. It is later discovered by Koichi Hirose that this son was Giorno Giovanna. After DIO's defeat, Polnareff took the stand arrow from his mansion.This then lead Polnareff to go to Italy and track down Diavolo after finding out about the arrow in his possession.
Stone Ocean (2012)
In the year 2012, the Joestar family learns that Enrico Pucci encountered DIO shortly prior to and during their journey to Egypt. DIO "healed" Pucci's disfigured foot and gave him a Stand Arrow, speaking about the gravity which draws people together. He then told Pucci to seek him out using the Arrow if he wished to learn more. After a series of unfortunate events which led to Pucci being stabbed by the Arrow and gaining a Stand, he turned to DIO.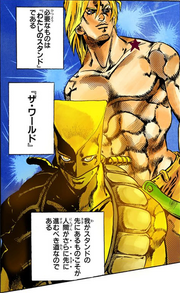 The two would spent a considerable amount of time together, each traversing to the other's location across the world and discussing ways to turn their philosophies into reality. During one of DIO's visits, he suddenly brings up his interest in reaching an ideal heaven, revealing that he had written the plans to do so in a notebook and that he would need Pucci's help in doing so.[7] DIO questioned Pucci's loyalty to him, however, pondering why the latter didn't use Whitesnake to remove The World from him. Pucci explained that he loved DIO as he loved God, and thus worshiped him too much to betray him. Ensuring that he wouldn't completely fade, he left one of his bones in Pucci's care.[8]
This bone becomes vital to Pucci's plan when one of his underlings, Sports Max, uses his Stand to reanimate it. This results in the incubation of a "Green Child" (which also possessed the Joestar birthmark) that would later merge with Pucci to give him C-Moon and finally Made in Heaven. Aside from Pucci, several other figures emerge, shown to have ties to DIO: Johngalli A is one of DIO's underlings who bears a grudge against the Joestars for DIO's demise, and Ungalo, Rikiel and Donatello Versus are, like Giorno, DIO's illegitimate children.
This section requires expansion.
DIO will sporadically appear throughout the game to taunt the heroes and comment on what tarot cards have been chosen for them. He appears as the final boss of the game and, unlike the manga, the entire Joestar group is pitted against him (this includes Jotaro, Joseph, Polnareff, Kakyoin and the then-meant-to-be-deceased Avdol and Iggy.) He primarily uses his Stand, The World, and its time stop ability to deal major damage to the player characters. However, he has the glaring weakness of taking much more damage from attacks dealt by Jotaro within his own stopped time.
DIO appears as one of the ten characters from the JoJo's Bizarre Adventure franchise in the game.
Shadow Dio
Shadow Dio, or Ja'aku no Keshin Dio (邪悪の化身ディオ , lit. Evil's Incarnation Dio) in Japanese, is the form Dio takes for most of Part 3 while waiting for his body to completely assimilate. To reflect this, his moveset involves mainly open-hand light and heavy attacks (which ties into how weak the left side of his body was if Dio happens to have his animations be performed when facing right). The World in this form, is also depicted as a faint-and-clear silhouette.
In the game where Active Stands are prevalent, Shadow Dio is a passive stand user. He can deal a lot of damage with full offensive attacks without an Active Stand via a solid amount of frame-traps and pseudo-disjointed pokes with his silhouette-version of The World, even though he lacks the more defensive and utility-type traits of having an active Stand. He also has a counter-reversal move, a reference to his encounter with Hol Horse, that helps this play style to be more effective, which can be used either for offense as a reversal punisher, or defense when Dio himself is in pressure.
While not shown in the manga or anime in earlier chapters, Shadow Dio is capable of throwing knives. These knives, while not too fast for up-close combat, can push enemies further back and gives him a semblance of anti-air defense. The angle of the knives can be varied (straight forward or in a fanned-spread either upward or forward, and he can throw knives twice. The first knife throw has a large amount of hitstun and can be used to ease into combos, though either version is meant to control a certain range of space.
His eyebeam projectile can be charged to an incredibly powerful and unblockable level, sometimes causing a Stand Crash in one hit. But like his normal form, it can easily be ducked under.
His Stand attacks are effective as surprises, and capable of juggling and/or short bread-and-butter combo finishers. Combined with his own attacks, he deals a lot of damage in a short time, more so within The World, when he stops time.
His Super Combo, "Punishment", deals heavy damage if it connects. However, it cannot be incorporated into combos easily and works better as a out-of-pressure reversal or a frame trap. His other Super Combo, called "Charisma", takes two levels of power, but the buds coming out of his hair are unblockable and home in on the enemy. The slow start-up animation of this move requires it to be a part of the combo, in order to perform the move without being interrupted by the enemy's attacks (or to be used during the opponent's wakeup to lock them down more effectively).
If Shadow Dio is transformed by Alessi's Stand, he will transform into Wang Chan carrying Dio's severed head in a jar from the final few chapters of Part 1.
DIO
This is the appearance DIO takes for the final chapters of Stardust Crusaders. A majority of his "open-handed" attacks are now properly clenched into fists (his light and hard attacks), signifying his better control over the body.
His moveset now resembles Jotaro's, with a few touches of his own. In contrast to Jotaro, DIO is more effective with his Stand on. His Stand combos are effective at dealing a lot of damage to the enemy in a short time. As such, DIO specializes in quick disposal of an enemy.
His Blazing Strikes can be manipulated to hit low, where the enemy must guard low. This makes his attacks unpredictable, keeping opponents on their toes. His Space Ripper Stingy Eyes attacks, now with different commands, are now completely unblockable, though the animation is notably slower and lack any ability to cause a Stand Crash right off.
His Road Roller, though weak in JoJo's Venture, now deals greater damage in JoJo's Bizarre Adventure. His Chi no Shoukan (Bloody Summoning), added in the second game, requires the enemy to be hit before he sucks their blood. The scene when he connects with the move is considerably graphic, with a cutscreen of the enemy's face being punctured by DIO's fingers.
While he does have considerable damaging potential, he does have handicaps; His super moves cannot be integrated into combos in such a way that they will chain together. However, his super moves have a degree of invincibility, which increase his effectiveness in close-quarter battles, even when predictable. DIO players tend to rely on frame traps or mistakes from the enemy to inflict damage. To be able to use him well, DIO players must have the reflexes to perform their super moves at the right moment and often with right judgment.
His The World - Time Stop is particularly deadly at 10 levels of power. He can deploy a lot of knives (particularly the Active Stand version of the Super Move) repeatedly, especially point blank on the enemy, and perform Road Roller before the power gauge goes below level 1. If the enemy is big in size, the more the enemy will take damage from the knives. It is a gamble though to successfully perform The World against a human player, but the damage it inflicts is worth the effort.
His time stop ability can be foiled by attacks that bring total invincibility to its user, Vanilla Ice being one such character. True to the manga and anime, Jotaro also can usurp the timestop from DIO if he does his own timestop command in the right moment.
For the first round in the final battle against him, DIO will wear his jacket and his abilities will be limited. If he is first defeat, and regardless of how many rounds the player sets, he will shed his jacket declaring it to be the final round.
If DIO is hit by Alessi's Stand, he will turn into Nukesaku.
DIO appears in the game's opening, during a scene where Giorno Giovanna looks at the picture of his father in his wallet (replicating the action taken in an early chapter from Vento Aureo).
DIO is one of the many playable characters in Jump Super Stars. He can only be unlocked after clearing the game once.
He has three potential "battle panel" formations: a 4-block, a 5-block and a 6-block. All three have his characteristic "MUDAMUDA!" stream of punches as one special attack. His other special attack varies depending on the formation: With the 4-block, it's "The World, Circle of Knives", with the 5-block it's "The World, Road Roller" and with the 6-block, it's "The World, Time Stop". He also features in two "support panels" - the 2-block "Eye-Crushing Kick" and the 3-block "WRYAAAAA!" - and one "help panel" which renders the player's battle character immune from damage for a short period of time.
In terms of playing style, he is best for long-range attacks and uses a combination of punches and kicks. The World gives him a longer range than most characters, but at the cost of his speed. Dio is able to drains an opponent's health in close quarters (via sticking his fingers in their neck) and transfers it to himself. He can use "Space Ripper Stingy Eyes" as a regular attack, and has an aerial move which involves throwing knives.
Interestingly, he receives a power boost when his "battle panels" are placed beside those of Hao from Shaman King and/or Papillion from Busou Renkin. He is also able to perform a special tag-team attack with Sasuke from Naruto called "Sharingan World", whereby DIO's homing daggers and Sasuke's shuriken slice through all enemies on the screen.
DIO returns in the Jump Super Stars' sequel, Jump Ultimate Stars and retains his previous playing style.
In the game, DIO can receive a power boost when his panel is placed beside Giorno (whom asks if DIO is one person with two bodies), Jonathan (who mocks him with his iconic line "MUDAMUDA!") and Taizo from Taizo Mote King Saga (whom asks if DIO remembers how many pairs of underwear he had worn to date, parodying Dio's classic line).
DIO also provides an ally boost to Frieza from Dragon Ball Z (he asks Frieza if he also seeks for immortality) and Dr. Mashirito from DR.Slump (he asks if Mashirito has his ideology; after winning comes world domination, a goal shared by both villains).
Dio appears in this game as multiple different playable versions such as "Young Dio", "Joestar Mansion Fight Dio" and "Vampire Dio". The game also has a mode called "DIO MODE", where the player faces all the battles from Dio's perspective (with new events, like Zeppeli surviving Tarkus' battle and then confronting Dio along Jonathan).
Notably in one variation of his final fight with Jonathan, Dio can instead briefly plant his head on the body of the drunken priest Styx before making his final move. The player can also win the boxing match between Jonathan and Dio, leading to a scene where Dio claims Jonathan cheated and hit him with a rock.
Dio appears in the PS3 game as two separate fighters; the first being "Dio Brando" from Part 1, and the second being "DIO", from Part 3. This marks him as one of the only three characters with two incarnations, the others being Joseph Joestar and Yoshikage Kira.
Dio Brando
Dio Brando (from Part 1) uses the exclusive Vampirism Style as part of his moveset, which allows a number of his skills to drain the opponent's health and in one specific case, their Heart Heat Gauge.
Dio's moveset mostly comprises of the vampiric feats he had done in the original manga.
You worthless primate!: Dio bounds high into the air. Skills marked with a diamond can be instantly followed by this move as a cancel. This move can also be used to evade attacks.
Aerial Chain Beat: Dio can chain his normal attacks together in mid-air.
Punch right through you!: Dio runs and delivers two hits that down the opponent. The second hit is a middle attack that cannot be blocked if the opponent is crouching. Skills can be performed instantly following this move. (Comboable)
Vaporizing Freeze: After a short delay, Dio hits the opponent with a frozen leg, freezing them in the process and leaving them vulnerable. If Light, the attack becomes a middle attack that cannot be blocked if the opponent is crouching, hitting them with his knee. If Medium, the attack becomes a low attack that cannot be blocked if the opponent is not crouching, kicking them with his foot. This move is marked with a star and a diamond. (Comboable)
Frozen in your tracks!: A counter. Dio mockingly gestures the opponent toward him, and if hit with a non-Throw/HHA/GHA in that moment, he will freeze the opponent, leaving them vulnerable. This move is marked with a star. (Comboable)
KUA!: Dio delivers a spinning kick. This move has a follow-up skill and is marked with a diamond. (Comboable through Puttsun Cancel)

5 or 6 broken ribs!: Dio delivers alternating knees into the opponent's torso. This move has two follow-up skills. (Comboable through Puttstun Cancel)

Think you can beat the great Dio?!: Dio grabs the opponent and freezes them, before uppercutting them high into the air with his other hand. This move is marked with a star and a diamond (Comboable through Puttstun Cancel)
WRYYY!!: Dio uses both hands to slam the opponent to the ground hard enough for them to bounce. This move has a delay, but is a middle attack that cannot be blocked if the opponent is crouching. This move is marked with a star and a diamond. (Comboable through Puttstun Cancel)

You weakling!: This move can only be used after a skill marked with a star lands. Dio plunges his fingers into his opponent and starts draining their blood. Dio drains the opponent's health to replenish his own.
MUDA, MUDA, MUDA!: This move can only be used after a skill marked with a star lands. Dio plunges his fingers into his opponent and starts draining their blood. Dio syphons the opponent's Heart Heat Gauge.
I'll suck you dry!: Dio lunges forward and stabs with his fingers. If it hits, he will recover health as he drains the opponent's.
Throw - You impudent fool!: Dio grabs the opponent by the neck with one hand, strangles them, and throws them away with much of his power.
Dio's HHA move is Space Ripper Stingy Eyes. Reassuring his opponent that they won't feel a thing, he fires high pressure fluid from his eyes in an attack akin to laser beams that will hit at any range instantly. If this move is used to K.O. Jonathan, a special animation will play where Jonathan futilely tries to block the beams and whispers "Erina..." as he falls.
Dio's GHA, "A cruel death awaits you!" has him lunge at the opponent with freezing arms. If he succeeds in landing the attack, the opponent will be completely frozen over, and Dio will mock them for their weakness before pummeling them ruthlessly with knees and fists. Uppercutting them into the air, he finishes by smashing their frozen form to bits between his hands while laughing (replicating Dire's defeat).
His alternate costumes comprise of several outfits he wore during Part 1: his first costume has his cape and feathered shoulder pads outfit (the same he wore during the night of his transformation) and the second one is his attire seen in his first battle against Zeppeli and Jonathan (similar to his default costume, but without the scarf).
DIO
DIO (from Part 3) is now of the Stand Style. DIO can turn The World on/off, changing movesets, as well as having access to the Stand Rush ability returning from the Capcom game, being able to attack in conjunction with his Stand.
During a fight, DIO can use several different attacks that were featured in Stardust Crusaders.
Throw - What just happened?: The World picks the opponent up by the neck and stops time. When time resumes, the opponent has been punched through the abdomen and is sent flying.
While The World is off:
"Right in front of me?!": Through stopping time, The World instantly appears in front of the opponent to strike them. (Comboable through Puttsun Cancel)
I'll give you one chance: DIO swaggers toward the opponent before stopping to pose. The effect of the skill is dependent on the attack button inputted.

Light - Attacks that do not result in a hard knockdown or blowback no longer phase him, though he still takes damage.
Medium - He will automatically perform a Stylish Dodge as soon as the opponent strikes him. This can only happen in the first half of his walking length, otherwise he is vulnerable.
Heavy - If he touches the opponent, he'll uppercut them into the air as a Throw. (Comboable through Puttsun Cancel)

"He's... gone!": DIO raises his finger before stopping time and reappearing a distance forward to deliver an upward smack. If Heavy is inputted, the move will simply result in a feint. (Comboable through Puttsun Cancel)
Oh, this suits me well!: DIO swings at the opponent open-handed. If he connects, he'll knock them to the ground, plunge his fingers into them, and start draining their blood. DIO drains the opponent's health to replenish his own.

This is the greatest high!: If performed on any of the Joestar lineage (Jonathan, Joseph, Jotaro, Josuke 4, Giorno, Jolyne; Does not work on Johnny Joestar and Josuke 8), DIO will follow-up by jabbing his finger into his head and twisting it as he laughs maniacally, granting him half a bar of his HHG. This action will only happen once the entire battle.

And one more just in case!: DIO summons The World to throw a knife.
An absolute end: This move can only be used when the opponent is down. DIO pulls out a sign and brings it down on them. This skill is a middle attack and can only be blocked if the opponent is standing.
So close!: This skill can only be used once DIO is hit by any non-Throw/HHA/GHA, or any attack that does not down or send him flying upon the first hit. DIO stops time in order to escape, appearing to the side of where he previously was in relation to the opponent (similar in effect to a Stylish Dodge). Its activation consumes two bars of the Heart Heat Gauge and 35% of the Guard Gauge in return for completely breaking out of an opponent's attack or combo, and functions in the exact same manner as Diavolo's "Such futility!" counter.
While The World is on:
MUDA MUDA MUDA MUDA!: The World rushes forward with a barrage of punches, advancing on the opponent and knocking them down. This ability can initiate Rush Mode. (Comboable through Puttsun Cancel)
My Stand's full power!: This move can only be used in mid-air. The World rapidly punches downward, before unleashing an upward kick that sends the opponent high into the air. A Stand Rush skill that DIO can disconnect from to attack the opponent while it is executing.
This is... The World!: After a brief delay, DIO and The World flash forward by stopping time as The World delivers a potent punch that sends the opponent flying far if successful. If Medium or Heavy is used, the attack is unblockable.
If DIO has at least two stocks of the Heart Heat Gauge, he can use the ability "Time, stop!". If the activating three-second animation plays uninterrupted, DIO will stop time for 4.6 - 6.9 seconds depending on how much of the HHG he has. All animations, including the HHG flame and the countdown on the battle timer, will temporarily cease, and the opponent in frozen in place and unable to move. Damage dealt to the opponent that is not a Throw, "I'll give you one chance", "Oh, this suits me well!", HHA, or GHA is reduced, but the opponent is otherwise completely at DIO's mercy. DIO is even capable of hitting opponents that were down when the ability was activated, 'resetting' them into a standing position on the first hit. Knives thrown using "And one more just in case!" or his HHA hang in the air, notably doing more damage if they hit the opponent after time resumes than if they were to have connected immediately. He may even use his HHA or GHA if he has enough of the HHG left to do so. If DIO's Throw, the attack variation of "I'll give you one chance", "Oh, this suits me well!", HHA, or GHA is used, time will immediately resume with the HHG drained to zero. When the ability ends, the opponent will suffer all damage dealt to them at once. If fighting against Jotaro or himself, DIO can use this ability to move within the other fighter's stopped time, and may even be the only one left moving should his opponent run out first. The ability is best used with normal attacks in mind in order to deal the most damage within the stopped time, as they do not take long to perform and their damage reduction is insubstantial.
DIO's HHA, "Scared, are we?" is similar to Shadow DIO's "Checkmate" super from the Capcom game. DIO tauntingly notes how pale his opponent has gotten and performs a roundhouse kick sliding forward. If this hits, the opponent is sent flying into the air as DIO stops time and throws 27 knives that surround them at most angles, before resuming time and letting them get skewered. If "Time, stop!" is active, the HHA will change to simply DIO and The World launching a multitude of knives in a fanning wave, but deal less damage. If quick enough, the HHA can be performed twice during stopped time if DIO's Heart Heat Gauge has three stocks, ultimately dealing more damage than the HHA's original version, but only if the knives don't immediately hit the opponent once thrown.
DIO's GHA, "It's a steam roller!", is his infamous climactic dropping of a steam roller. If The World's opening punch strikes the victim, DIO stops time, jumps high into the air where he can no longer be seen, and brings the now-memetic steam roller down on his victim. He then elbows the vehicle repeatedly, heavily denting it in the process, before jumping off and resuming time, thus allowing the vehicle to explode as it is crushing his opponent. If the same move is done against Jotaro, he summons Star Platinum to try to punch the roller away. Jotaro may initiate "I stopped time..." over the course of the GHA, and a special animation will play where DIO is blindsided by Jotaro stopping time. While this doesn't negate the damage of the whole attack, it does negate the damage of the steam roller's explosion that makes up more than half of the GHA's total damage.
DIO's alternate costumes include his jacket-less empowered, or 'High' form with straight, spikier hair (the same appearance after sucking Joseph's blood), his "Shadow DIO" form complete with a shadowed-obscured face (similar to his first few appearances in Part 3), his normal attire using an long cape (the one he wore up until Kakyoin's death, where he throws it away), and the outfit he wore on the cover of Over Heaven, complete with an updated hair style and color.
DIO (Part 3) is also the character with most unique pre-fight dialogues with other characters. This includes conversations with Jonathan, Jotaro, Old Joseph, Polnareff, Kakyoin, Avdol, Hol Horse, Vanilla Ice, Giorno, Enrico Pucci, and both parts of himself.
DIO (Part 3) was the most voted character for the fan-vote JoJo's Bizarre Adventure: All Star Battle League and even won the Tournament, beating Jotaro Kujo in the final match.
DIO appears as one of the several Part 1 and Part 3 characters who possess a Metal Strike, with several different appearances.
For his Part 1 variations, his younger self's Finish Move attacks the opponent with a punch followed by a fingerprint (mimicking the same finishing blow he dealt to Jonathan in their first fight), while his vampire versions attack the opponent with his fingers while sucking their blood.
For his Part 3 variations, his Shadow Dio Finish Move makes him attack the opponent with his hair, while his normal version attacks the opponent with his Stand's "MUDAMUDAMUDA!" rush.
By being the greatest villain in the game, his Metal Strikers are naturally the hardest ones to obtain in the game, usually requiring special conditions and tasks to be earned.
Aside from being mentioned by Jonathan only once in Story Mode, he does not appear in any form in the game. However, hidden data was found in the game for him and Jotaro as playable characters (alongside other Weekly Shōnen Jump characters Yoh and Dai, from Shaman KingW and Dragon Quest: Dai no DaibōkenW respectively).
Dio Brando (Part 1) was confirmed for the game alongside Iggy, N'Doul and Old Joseph, while DIO (Part 3) was confirmed alongside Vanilla Ice. He appears as one the 6 playable characters in the second demo.
Dio Brando
Dio Brando is of the Vampire style. As such, a number of his abilities allow him to not only steal opponents' health, but also to enter a Vampiric Power-Up Mode, boosting his movement speed and attack damage, among other things. All damage to him aside from Ripple-based will become "white damage", that can be healed over time, and inversely, Dio will take more damage from Ripple-based attacks.
Style Action - Behold this magnificent power!: Dio grabs the opponent and siphons their blood for his own health, an ability that can be easily incorporated into many of his combos. Successfully landing this attack with enter Dio into Vampiric Power-Up Mode. The skill will have no cooldown if Dio is already in Vampiric Power-Up Mode.

Vaporizing Freeze: While Vampiric Power-Up Mode is active, Dio gains the ability to freeze opponents if he guards before a non-projectile/DHA attack hits. (Comboable)

You Won't Feel a Thing!: Dio fires off Space Ripper Stingy Eyes, sending opponents reeling if it hits. If Vampiric Power-Up Mode is active, the execution speed and distance of the attack is increased, and opponents hit are instead left crumpling and open to further attack.
WRYYYYY!: Dio clasps his hands together and charges forward. If he connects with an opponent, he will pick them up by the neck and absorb their health, entering Vampiric Power-Up Mode if it is not already active. He will take more health if the activating button is rapidly pressed. If Vampiric Power-Up Mode is active, the attack becomes unblockable and Dio's charging distance is increased.
Weak! WEAK!: Dio performs alternating knee kicks that knock opponents into the air before leaping, allowing him to continue his combo from mid-air. The brief pause that occurs upon his landing can be cancelled with a jump. If Vampiric Power-Up Mode is active, Dio receives super armor (unflinching to opponents' attack) during the attack, and will execute the leap quicker.
MUDA MUDA MUDA!: Dio performs a single a knee kick, freezing opponents hit and leaving them vulnerable to further attack. If Vampiric Power-Up Mode is active, the attack will execute quicker.
EX - You Won't Feel a Thing!: The skill gains the benefits of Vampiric Power-Up Mode whether or not it is actually active. It will also execute quicker, and Dio is granted invincibility during the attack.
EX - WRYYYYY!: The attack executes quicker and Dio's charging distance is increased further. He is also able to absorb even more health.
Trait - A fall from this height is nothing to me!: Dio is able to walk on certain walls and columns around the stage, granting him the ability to reach different areas of stages without needing to travel the conventional routes, or simply avoid attacks. Holding this activating button will allow him to climb higher, and he is able to attack from his vantage points.
Trait - I shall live for centuries... for eternity!: When Dio's health hits zero for the first time, if his partner is still alive, he will momentarily rise and fire Space Ripper Stingy Eyes one more time at the closest opponent before falling permanently, dealing considerable damage.
JoJolities
Prepare to be frozen in your tracks!: Dio must connect "MUDA MUDA MUDA!" 3 times. (200 Points)
Do you remember how many breads you have eaten in your life?: Dio must connect his Style Action 5 times. (200 Points)
I, Dio, will kill you!: Dio must Retire an opponent. (300 Points)
I reject my humanity!: Dio must retain a Vampiric Power-Up Mode for 20 counts of the battle timer. (500 Points)
You thought you stood a chance?: Dio must win within 50 counts of the battle timer. (800 Points)
Dual Heat Attacks
Solo - A cruel death awaits you!: It works the same as the one from All Star Battle.
With DIO - The Sickest and the Strongest: Dio freezes the opponent and attempts to unleash Space Ripper Stingy Eyes, quickly interrupted by DIO stopping time and pummeling them with The World into the air. DIO resumes time to allow Dio to fire off the attack, tilting his head to the side to avoid getting hit and watches as the beams obliterate the frozen opponent.
He has special dialogue when teamed up with Jonathan, where both, while showing great disdain for the other, reluctantly accept each other as partners.
Much like every character from Part 1 through Part 3, his main color scheme and outfit is based on his anime appearance.
Dio Brando is paired with Joseph Joestar (Part 2) in the Eyes of Heaven Tournament, defeating Caesar Zeppeli and Shigekiyo Yangu in the first round, but eliminated by Kars and Pet Shop in the second.
DIO
DIO is both a Stand User and a Vampire. As a Vampire, he is able to steal opponents' health. All damage to him aside from Ripple-based will become "white damage", that can be healed over time, and inversely, Ice will take more damage from Ripple-based attacks. As a Stand User, DIO is one of many characters with wildly varied abilities that grant him uniqueness in battle.
Style Action - Stop, time!: After a short period of vulnerability, DIO stops time for five whole seconds, rivaling the time stop of THE WORLD Diego. His partner and opponents are unable to move, and he is able to initiate any action or attack with impunity. However, other time-stopping characters may activate their own ability to enter DIO's stopped time. This ability's cooldown is equal to 40 counts of the battle timer, making it the longest cooldown of any ability in the game.
Oh, this suits me well!: DIO, from a combo, knocks an opponent to the ground, plunges his fingers into them, and start draining their blood. He absorbs a small amount of their health to replenish his own.

This is the greatest high!: If performed on any of the Joestar lineage (Jonathan, Joseph, Jotaro, Josuke 4, Giorno, Jolyne; Does not work on Johnny Joestar and Josuke 8), DIO will follow-up by jabbing his finger into his head and twisting it as he laughs maniacally. This grants him a point of the Dual Heat Gauge, and restores his stamina as well as his Flash Burst if it is on cooldown. This action will only happen once the entire battle.

This is... The World!: Through stopping time, The World instantly appears in front of opponents in range to strike them with an overhead punch. If time is stopped, The World will instead fly forward to deliver a punch to the abdomen.
MUDAMUDAMUDAMUDA!: The World attacks by rapidly punching 12 times while advancing forward, the last hit sending opponents flying.
He's gone!: DIO raises his finger before stopping time and reappearing a distance in the direction the movement stick is held. If no direction is being inputted, DIO will simply "teleport" backwards. He is able to cancel into a Normal Attack once the skill succeeds. If time is stopped, DIO will simply perform an invincible Sidestep.
There's no escape!: DIO and The World throw five knives straight forward, or straight at their target if locked on. If time is stopped, they will freeze in mid-air after traveling some distance. This will also cause the skill to execute quicker, allow DIO to recover form using it faster, and boost the cooldown speed.
EX - There's no escape!: The knives fly faster and have increased range. They will now leave opponents crumpling, and temporarily slow their movement speed afterward.
EX - This is... The World!: The skill executes quicker, DIO recovers from using it faster, and the range of The World is increased.
JoJolities
It's only fitting that I finish you off with The World's true power!: DIO must use his Style Action. (200 Points)
WRYYAAAAA!: DIO must connect a Powerful Attack as the third step in a mid-air combo. (200 Points)
Heh heh heh! I knew you'd never be able to match The World's power and precision!: DIO must connect "MUDAMUDAMUDAMUDA!" five times. (300 Points)
Idiot...: DIO must connect "This is... The World!" 3 times. (500 Points)
You haven't even noticed that you're dead.: DIO must land a Dual Heat Attack while time is stopped. (800 Points)
Dual Heat Attacks
Solo - THE WORLD!: DIO walks calmly and intimidatingly towards the opponent, and tells them to feast their eyes on his power while he's seemingly about to attack them. He suddenly stops time to appear behind them while they're frozen by fear, then summons The World to punch through the opponent with enough power to sending them flying.
With Dio - The Sickest and the Strongest: Dio freezes the opponent and attempts to unleash Space Ripper Stingy Eyes, quickly interrupted by DIO stopping time and pummeling them with The World into the air. DIO resumes time to allow Dio to fire off the attack, tilting his head to the side to avoid getting hit and watches as the beams obliterate the frozen opponent.
With Giorno - Surpassing Existence!: DIO summons The World to batter the opponent, before being joined by Giorno and Gold Experience. After exchanging looks, both of them yell out their shared Stand Cry in unison and attack their target with steadily increasing power, before delivering a combined powerful strike that sends the opponent reeling.
With New Moon Pucci - Rulers of Time and Gravity: This DHA is only available with Pucci using Made in Heaven. DIO stops time and throws a barrage of knives. As time resumes, Pucci speeds up the knives' flight using Made in Heaven to make them hit their target with more power. Pucci then uses MiH's power to allow DIO the ability to get close to the enemy with extreme haste and deliver a singular punch that launches them off.
He also has special dialogue when paired with Jonathan: While Jonathan agrees to fight with DIO for the battle only, DIO notes that such a statement only proves that they are the same person.
Much like every character from Part 1 through Part 3, his main color scheme is based on his anime appearance.
DIO is paired with Jonathan in the Eyes of Heaven Tournament, defeating Will Zeppeli and Koichi Hirose in the first round and Wamuu and N'Doul in the second. In the semifinals, they defeated Mariah and Esidisi in the first round, but were eliminated by Kars and Pet Shop in the second.
In the semifinals, DIO is introduced in another team, paired with Jotaro. They defeat Mariah and Esidisi in the first round, but were eliminated by Jolyne Cujoh and Gyro Zeppeli in the second.
A version of DIO exclusive to Eyes of Heaven. Named "DIO, Gone to Heaven" in the English localization. Through having defeated the Joestars in an alternate universe, DIO eventually achieves his goal of "obtaining heaven" and as a result, obtains a new form and Stand, The World Over Heaven.
His role in the game's Story Mode is that of the game's main antagonist and final boss.
This section requires expansion.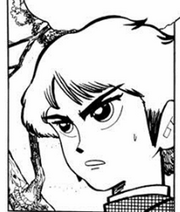 Dio's name is derived from the Italian word for "God", befitting his megalomaniac personality and his project to create a new world for him and his subordinates as implied in Stone Ocean.[3] His Heaven Acension DIO form also fits as well due to warping reality to his liking.
The style of Dio's name in Part 1 is written normally, whereas DIO's name in Part 3 onward is written in English and completely capitalized.[4]

Despite this, Giorno's picture of him has "Dio Brando" imprinted on it, even though his original name would have been long forgotten by then.

The trick DIO used on Hol Horse by instantly going through spider webs without damaging them is likely a reference to Bela Lugosi's first scenes in Dracula (1931).
The bridge Jotaro defeats DIO on is the Qasr al-Nil Bridge, which connects downtown Cairo to Gezira Island and the Zamalek district. Its coordinates are 30.043747°N 31.229464°E.
In Araki's top Ten Favourite Characters in 2000, DIO ranked as 10th, being the third main villain in the countdown.
Dio and Diego's themes in Eyes Of Heaven are remixes of each other. This is true for both Dio Brando and Scary Monsters Diego, as well as DIO and Alternate Diego.This makes sense as Diego is the reboot of sorts counterpart of Dio.
Araki considers Dio to be 'the true protagonist' of Phantom Blood. Araki developed Dio's character design before Jonathan. Dio also makes his debut first before Jonathan. Araki pondered in deciding what would be the scariest factor, and decided that "evil from the past" coming to get the present descendant would be the most frightening thing. Dio was developed with this in mind. After him, Jonathan Joestar of 'light' was designed to counter Dio's 'darkness'.[5]
Zephyr, one of the bosses in the video game Castlevania: Dawn of Sorrow as well as Portrait of Ruin, pays homage to Dio Brando. Besides a habit of bending over backwards, he has the ability to throw knives, as well as freeze time with a shout of Toki yo Tomare!!! ("Stop, O time!", translated to "Time, be still!" in the English dub of Portrait of Ruin, where Zephyr appears as a bonus boss.). He also faces the protagonist in a clock tower, a reference to Dio Brando's fight with Joseph Joestar and Kakyoin in the first half of the Dio's World story arc.
Sakuya Izayoi from the Touhou Project series is likely an homage to Dio. She is not a vampire, but the servant of Remilia Scarlet, who is a vampire. Her main power is manipulation of time - usually demonstrated by stopping it completely. She attacks by throwing knives as well. Some of her spell cards involve stopping time and making many knives appear around the player, and one of these cards is even named Illusion World "The World". In the fighting game spin-offs, she has many time-stopping special moves, one of which is called "Sakuya's World", which acts in the same way as Dio's time stop move in the JoJo fighting game.
The characters Robo-Ky and Justice from the 2D fighter series Guilty Gear both make references to Dio's 'The World'- Robo-Ky in the form of the "Muda" battlecry with a barrage of punches in one of his Overdrive attacks (though he says "Dame"; lit. "No Good" instead), and Justice in the form of a "WRYYYYYYYYY"-like battlecry and pose in both her victory poses and her most powerful Overdrive attack, Gamma Ray.

Furthermore, Dio's current seiyuu, Takehito Koyasu, also voices Zato-1/Eddie in this game, a necessary change after the death of Eddie/Zato-1's orignal voice actor, Kaneto Shiozawa.
In the online game, Erepublik, Dio Brando (in the form of DIO) is featured as a God Emperor of his own religion in Pakistan, referred to as "Dioism", as well as the President of a political party named the "Stardust Crusaders". Among other things within the game, Dio is also a Nobel Peace Prize recipient.
In the NBC drama, Heroes, a fictional Japanese salaryman named Hiro Nakamura is a fan of JoJo's Bizarre Adventure. As well as the references detailed in Jotaro's page, a scene in Volume 2 has Hiro freeze time to steal the swords of a group of samurai. Although subtitled along the lines of "That was a bad idea", Hiro taunts the samurai by saying "Muda, muda, muda!!", DIO's battlecry from Stardust Crusaders.
In the popular pixal avatar site Gaia online, there are obtainable item series known as the "RIO Star" series. These items show resemblances to Dio's outfit in Stardust Crusaders. There are also "Back/Tails" accessories that are called "K.O. Star (Za Warudo)" and "K.O. Star (Time Stop)" which is obviously a reference to Dio's stand, The World (Za Warudo).
Cheria Barnes from Tales of Graces has a fighting style based off of Part 3 DIO's abilities. She attacks using throwing knives as well as stopping Time. However her main focus is to heal the rest of the party, in the story this is done by touching the effected area, much like how Dio healed Pucci's disfigured foot.
Peacock, a playable character from Skullgirls, is able to make a steamroller fall on her opponents like Dio in fighting games. If the hit connects, the little fellow Avery has the same behavior and pummels the steamroller until it explodes as seen in this video. Valentine, another playable character, throws scalpels like Dio throws knifes. By setting up Valentine's scalpel throw as an assist move, and with good timing and luck getting the steam roller, it's possible to recreate the Road-roller combo from HftF since time freezes during the roller drop. The character Big Band can also turn his special move Super-Sonic Jazz into a flurry of punches similar to a Stand rush while crying "TUBATUBATUBATUBA!", a reference to Dio's own warcry.
"WRYYYYY!" (ウリイイイイイ, Uriiiii. Also pronounced Ree) is a shriek/war cry given off by vampires throughout JoJo's Bizarre Adventure. It is used to represent the frozen, possibly slowed and heavy breath of vampires, and frequently cued to strike fear into their opponents and/or the reader/viewer. While all vampires in the series are prone to doing so, this noise is most commonly associated with Dio Brando himself.
A resurgence of popular interest in JoJo's Bizarre Adventure occurred when "WRYYYYY!" began making the rounds as an Internet phenomenon on Futaba Channel imageboards. Sparked by a Flash movie called "Mudah.swf" which features stick figures performing the signature attacks of five different characters from Parts 3 and 5 of the series (This was due to the fact that only series 3 and 5 had games at the time). Dio Brando's clip features his use of The World (often pronounced intentionally as "Za Wārudo", to mimic how Dio pronounces it in Japanese) to freeze time, throwing a barrage of knives, and finishing his dying opponent off by dropping a steamroller on him, atop which he leans back and exclaims "WRYYYYY!". This proved hilariously random to those unfamiliar with JoJo's Bizarre Adventure. Another phrase popularized by the animation is "Muda!" (which translates to "useless" or "futile" in Japanese) which is Dio's (not to mention The World's) battle cry.
The recent English publication of JoJo's Bizarre Adventure (which begins at the start of the third arc) uses the spelling "WREEEEE!", which reinforces the proper pronunciation (at the cost of obscuring the connection to the Internet fad, however given the rather offensive nature of 4chan, where the meme was most popular, it is possible that it was a deliberate act of distancing itself from the fad and 4chan).
In All Star Battle, and the anime, Dio does the noise with his own voice naturally as a violent scream, as opposed to the Capcom game making use of a voice synthesizer for extra shrieking effects.
As Giorno, Dio's son, uses "WRYYYYY!" during one of his fights, it is possible that the battle cry may be hereditary, since Giorno is not a vampire (but still may be a half-vampire). Another instance which supports this idea is when Dio's Steel Ball Run counterpart Diego also uses the WRYYYYY battle cry, during his battle against Valentine.
As evidenced above, Dio's enunciation of his Stand and its power has also reached significant popularity, the full line in question being: THE WORLD, Time, stop! (世界! 時よ止まれ!, Za Warudo! Toki yo Tomare!). However it is a common misconception that the original Japanese of the line is Toki wo Tomare (時を止まれ) which is grammatically awkward as it would translate as "to stop time." The original line gives the impression that Dio is commanding time to stop.
The line is later followed by: Time resumes. (時は動き出す, Toki wa Ugokidasu) But most well known version is And now, Time resumes (そして、時は動き出す, Soshite Toki wa Ugokidasu) from Heritage for the Future.
↑ Chapter 39-41: Blood Battle! JoJo vs. Dio
↑ Gorgeous Irene Ch 1
↑ The Mist of Emptiness, Vanilla Ice - Vol.9 "Shueisha Jump Remix Stardust Crusaders Edition" P170 The Secret of JOJO Characters
↑ JOJOmenon