JoJo's Bizarre Adventure
Comments

0
1,750pages on
this wiki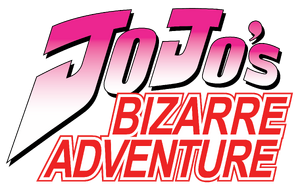 JoJo's Bizarre Adventure (ジョジョの奇妙な冒険, Jojo no Kimyō na Bōken) is a manga written and illustrated by Hirohiko Araki. It is currently the second longest running manga series in Weekly Shōnen Jump, starting in 1987 and going on to 2004, and has changed the magazine of its publication to Ultra Jump in 2005 during the run of its seventh installment, Steel Ball Run. In May 2011, Ultra Jump published the first chapter of JoJolion. The series has 100 volumes and counting; until 2012 it was the longest manga not to have a TV adaptation, although there are two OVA adaptations. The official TV anime made its debut on October 6, 2012.

The series is known for its references to Western music, its affinity to Italy, and the glam style of the characters.
Genres: Action, Adventure, Supernatural, Suspense
No.
Title
Original Run
Volumes
1
1987 – 1988
5
Series 1 follows Jonathan Joestar as he masters the ancient art of the Hamon to fight against his stepbrother, the newly transformed Vampire, Dio Brando and his zombie minions.
No.
Title
Original Run
Volumes
2
1988 – 1989
7

The second part of JoJo's Bizarre Adventure series takes place in the 1930s, and follows the misadventures of Joseph Joestar, the grandson of Jonathan Joestar, as he fights vampires and ancient super beings with some help from a cybernetically-enhanced Nazi and an Italian man he has a lot in common with.
No.
Title
Original Run
Volumes
3
1989 – 1992
16

Series 3 follows Jotaro Kujo, the grandson of Joseph Joestar, and his journey to Egypt to save his mother's life by defeating the Joestar family's resurrected archnemesis, Dio Brando. Stardust Crusaders is the third (and perhaps the most well known) major story arc. 
No.
Title
Original Run
Volumes
4
1992 – 1995
18

This series focuses on Josuke Higashikata, the illegitimate son of Joseph Joestar, with Jotaro Kujo and Joseph Joestar along in a supporting role. Araki retroactively introduces the "Bow and Arrow", an ancient artifact which causes latent Stand ability to develop in people. Strange events start occurring in the town of Morioh, and it's up to Josuke to unravel the secret behind the numerous homicides happening around town, whilst meeting unusual enemies and gaining allies along the way.
No.
Title
Original Run
Volumes
5
1995 – 1999
17

Giorno Giovanna wants to become a gangster in order to fulfill his dream: becoming a "Gangstar" (Gangster Star). After killing Leaky-Eye Luka in self defense, Giorno encounters  Passione mafia member, Bruno Buccellati, who wants to exact revenge. Giorno manages to exceed Bruno's expectations and defeats him. Giorno is invited into Buccellati's mafia group and is assigned a mission to deliver the Mafia Boss' daughter to him.
No.
Title
Original Run
Volumes
6
2000 – 2003
17
No.
Title
Original Run
Volumes
7
2004 – 2011
24

The story this time around begins in 1890. The series stars Gyro Zeppeli, who uses a set of steel balls with a special kind of spin, and Johnny Joestar (an alternate universe Jonathan Joestar), a former hot-shot jockey whose career ended early due to paraplegia. They race, along with others, in a mad-dash across America for 50 million dollars and possibly something else...
No.
Title
Original Run
Volumes
8
2011-Ongoing
5

The story takes place in 2011 in an alternate reality of Part 4's Morioh Town. Yasuho Hirose finds a strange naked man half buried in the ground. After making acquaintances, she finds out the man has no idea who he is and has no memories of anything. The story unfolds with Yasuho and the Strange Man attempting to unravel the mysteries behind the man's past and his amnesia.
Every part of series has a close connection with the JoJo main character, since the title reflects some characteristic attitudes or situations on the manga:

Phantom Blood: The first encounter with Jonathan and Dio, thus, starting the legacy that future members of Joestar family have to fight against Dio or any person who has connections with him.
Battle Tendency: The vast amount of fights in Joseph's way to save the world, first with the police, Mafia members, Nazis, vampires, The Pillar Men and finally, the showdown against Ultimate Kars.
Stardust Crusaders: Jotaro's group has Stands, which are named according their Major Arcana cards, the Tarot gives advice to mankind through the Stars. Their voyage from Japan until Egypt, is very similar to the path of the crusaders, knights who want to recover the Sacred Lands from Muslims (In this case, Jotaro wants to save his mother, Holy Joestar-Kujo).
Diamond is Unbreakable: Crazy Diamond, Josuke's Stand, is probably one of the most versatile stands created by Araki, since the Restoration ability provides several and helpful uses, like heal, construct, reconstruct, remake, etc; by this, the title of this part is very proper, because the diamond is the hardest of all rocks.
Golden Wind: Gold Experience gives life to any object in this world, according with the Bible, God gave to his creations the "Life Breeze" on Adam, Eve and every animal and plant of the Paradise, this reflects Giorno's ability, plus, his new hairstyle, gold and stylish makes Giorno "reborn", because during his childhood, he barely had a life.
Stone Ocean: Jolyne starts the series in prison, wishing to have her old life, free of troubles and bad times. From the start to the end, Jolyne leaves her rebellious side and accepts her destiny as Joestar legacy heir, thus, make fully her objectives: Recover Jotaro's Stand Disc, beat Pucci, and save the world. Also a reference to the "gift" Jolyne received from Jotaro.
Steel Ball Run: The main event of the series the suicidal race across the United States of America. Gyro's weapon of choice is the Steel Ball, which provide several uses, from stopping bleeding to killing people. Johnny has a major reference, since he wins the race of his life against all odds, with walking again as his final prize.
JoJolion: According to the author's notes, Araki chose the name based on the ancient greek word lion, which means "blessed thing", "evangelistic", and "commemorative seal", combining it with JoJo to refer to the protagonist's nature.