Joseph's Walkman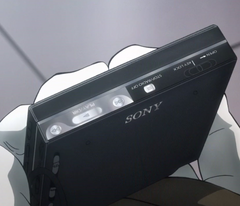 After each part of JoJo in which Joseph Joestar appears, he is shown in the last panel with a Sony Walkman (ウォークマン, Wōkuman), listening to The Beatles.[1][2] In Part 3: Stardust Crusaders, Joseph listens to the song Get Back.[3][4] In Part 4, he has replaced his cassette Walkman with a MiniDisc Walkman.[5]
Gallery
Trivia
In the OVA, Joseph is shown listening to the Gipsy Kings instead of the Beatles.
In the TV Anime for Part 2, BLOODY STREAM plays when Joseph hits the play button on his walkman.
References
↑ 1.0 1.1 1.2 Chapter 113: The Comeback
↑ 2.0 2.1 2.2 Episode 26: The Man Who Became a God
↑ 3.0 3.1 3.2 Chapter 265: The Long Journey Ends, Goodbye My Friends
↑ 4.0 4.1 4.2 Episode 48: The Long Journey Ends, Goodbye My Friends
↑ 5.0 5.1 5.2 Chapter 439: Goodbye, Morioh Cho - The Golden Heart