"
We must use our legs! ... We run, Smokey!!
"

—Joseph Joestar using his secret technique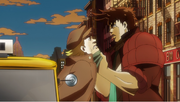 In Battle Tendency, Joseph is a hotheaded, impetuous, and confrontational young man. Quick to violently respond to the slightest provocation, Joseph would often get into brawls growing up; prior to events of the story, he had been imprisoned seven times and expelled once from school for fighting.[1] Having no respect for authority save of his grandmother's, and later Lisa Lisa's, Joseph has antagonised policemen and mafiosi alike. Furthermore, Joseph is a foul-mouthed individual and regularly taunts his enemies, enjoying aggravating them. He notably taunted Kars when he launched him into space, claiming to have again planned everything from the beginning just to annoy him.
Joseph is a playful man and prefers fooling around over having any responsibility. By his own admission, his most hated sentences are "hard work" and "work hard", and still had to be pushed to train his Ripple talent in spite of facing certain death if he didn't meet and fight Wamuu again. Joseph has a fairly goofy side and spends half of his fights enjoying having outsmarted his current enemy with incredibly zany schemes, which take his opponents by surprise by how silly his plans are at first sight. A show-off, Joseph likes being the centre of attention and couldn't stand that his rival Caesar had a special technique. With his prestidigitation talent, Joseph mixed his boastful nature and his love of pranks into a dangerous tool in battle.
At the beginning of his adventure, Joseph's one redeeming trait is his devotion to his family and friends. Joseph cares deeply for his grandmother Erina Joestar, and is deeply angered when a gangster has the nerve of mentioning Speedwagon's death before her, which upset her. Joseph also cares for his "Uncle Speedwagon", who he considers like a father and Speedwagon's disappearance pushed Joseph to go look for him in Mexico. Joseph also has a knack for befriending people. Despite having been stolen his wallet, Joseph quickly befriended Smokey Brown and couldn't tolerate discrimination against him. In the same way, Joseph befriended Caesar Zeppeli and Lisa Lisa even though they had difficult starts. Joseph even came to respect the Pillar Man Wamuu, and gave him a last salute as he died.
Over the course of Part 2, although he never really lost his overall attitude, he did develop into a strong, focused hero. In accord with his dismissal of any kind of discipline, Joseph believes that anything is fair in a fight as long as one isn't needlessly cruel. This results in him being a cheat and once earned him a scolding when he tried to climb the Hell Climb Pillar using a rope instead of with the Ripple as intended. Joseph possess a peculiar sense of honour, acknowledging Esidisi's underhanded moves as somewhat noble, since he did them for his fellow Pillar Men. However, when Kars backstabbed Lisa Lisa, Joseph was furious since he sullied the memory of his companion Wamuu. Thus it could be said that Joseph values kinship dearly.
Joseph is something of a flirt. He regularly comments on women's voluptuousness and was bold in his flirting with his future wife Suzi Q. Joseph's antagonistic behaviour toward Caesar may have been out of jealousy that he could seduce girls so easily. Not knowing that Lisa Lisa was his mother, Joseph enjoyed peeping on her and when she practically revealed herself as his mother, Joseph was more concerned by her actual age.
It is revealed in flashbacks that Joseph collects comics and was a fan of Superman when he was young. He becomes a fan of Rohan Kishibe's works when he is much older.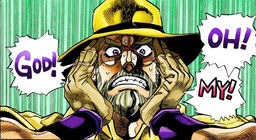 In Stardust Crusaders, Joseph has considerably mellowed out, having lost much of his aggression and laziness. Still irascible toward Japanese in general, due to a Japanese man marrying with his beloved daughter Holy, Joseph is otherwise nice to his grandson and Noriaki Kakyoin. His penchant for befriending people is still present, notably with the appearance of his new friend Mohammad Avdol, and his tendency to approach the locals first.
Joseph is much more responsible than in Battle Tendency, being more proactive in his quest to Egypt, and also sometimes reminding his younger companions of their goals when they are distracted. Years of peace and the appearance of the much stranger Stands means that Joseph lost some of his talents at outsmarting enemies, and is often the victim of the Stands he encounters. However, Joseph hasn't lost all of his skills and is capable of outsmarting enemies, having successfully cheated against Telence D'Arby, and figuring out The World time stop's limits. Upon his "death", Joseph gave one final advice to Jotaro, saying that he had much fun during their journey.
Joseph's goofy side is also still present, and Joseph's somewhat frequent failures at blending with the local culture and his struggle at battling Stands are a constant source of humour.
In Diamond is Unbreakable, his advancing age has weakened his mind and he appears to have become somewhat senile. Joseph is now a pacified and even weak-willed man, even sadly accepting Josuke's demand that he not interact with Josuke's mother. Despite this, Joseph is still a well-meaning old man who is willing to risk his life for others and is nice enough to offer some counsel to Yukako about her crush. Living in Morioh seems to have done him good, and at the end of the part, Joseph is more lively and happier, expressing confidence in the youth of Morioh at protecting the small town.
{{N|Relationships in [[JoJo's Bizarre Adventure: Eyes of Heaven}}
Relationships in Eyes of Heaven
(The information below derives from a Video Game not written by Araki. As such, it may not be considered canon.)
↑ 1.00 1.01 1.02 1.03 1.04 1.05 1.06 1.07 1.08 1.09 1.10 1.11 1.12 1.13 1.14 1.15 Chapter 73: Ripple Teacher Lisa Lisa (3) P.1
↑ Chapter 269: Josuke Higashikata! Meets Angelo (1) P.1
↑ Chapter 265: The Faraway Journey, Farewell Friends P.10
↑ Chapter 115: Jotaro Kujo (2)