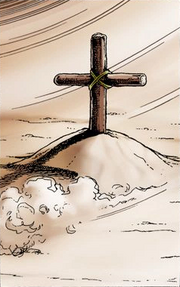 SPOILER WARNING: Part 1-8 Spoiler details may follow.
JoJo's Bizarre Adventure is often noted for the amount of casualties and fatalities that occurs throughout the series. The following is a comprehensive list of the deceased (either physically or mentally) from Phantom Blood through the ongoing JoJolion, as well as any other JoJo-related media.
Please note that this list consists primarily of canonical deaths; the deaths of characters from one-shots or novels not written by Hirohiko Araki listed below may or may not be considered canon.
Unnamed Characters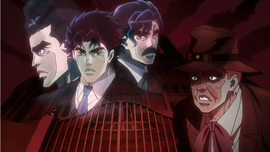 Unnamed Characters
Unnamed Characters
The Manga Artist who takes an interest to Boingo's "comic" foresees his own death within the pages. Soon, he is thrown out of the bus towards a utility pole and killed with his neck impaled on it, just as Thoth predicted.
Chaka's father and his two friends are accidentally killed by his son. He is stabbed in the head when Chaka is possessed by Anubis.
The Beggar, who is actually quite wealthy, is assassinated by Pet Shop after finding DIO's mansion before he could tell Avdol its location. Pet Shop fires a large icicle at him, exploding his whole body and his car.
Several pedestrians of Cairo are ran over by Wilson Phillips as he is forced to do so by DIO.
Unnamed Characters
Episode 16: At a Confessional
An Asian Beggar is crushed by a large bag of corn when he is forced to carry it after begging a man for food. He later becomes a vengeful spirit and haunts the man, assisting the man's prosperity from behind the scenes so that he could fulfill his vow of taking the man's life at his happiest moment.
The Servant of the Man at the Confessional has plastic surgery so that he looks like his master, and is subsequently beheaded by the vengeful spirit of the Asian beggar who was deceived by his appearance.
Episode 2: Mutsu-kabe Hill
Episode 5: Village of Millionaires
This section requires expansion.

This section requires expansion.

Unnamed Characters
The Natural Resources Workers enter a volcano in 1978 and two of them die within 48 hours, after their bodies are covered in tumor-like blisters. It is discovered that a group of bacteria arrived on the meteorites lying within the volcano which entered the bloodstream of the two men from their wounds. Despite being in a deep coma before dying, one of the men produces a spark in his body which burns off one of the doctor's fingers.
Diavolo's mother dies in the fire of the Sardinian village.
Diavolo's stepfather dies in the fire of the Sardinian village.
Narancia's mother dies from an eye infection in 1993 when Narancia is ten years old. Coincidentally, Narancia gets an eye infection later on, and everyone assumes that he got it from her and that it is contagious.
Bucciarati's father bears witness to a surprise drug deal and receives seven gunshots that nearly kills him. He is saved by a coast guard ship that was passing by and is taken to the hospital. The gangsters attempt to kill him while he's unconscious in the hospital, but the twelve year old Bruno murders them all. Unfortunately, his father dies from complications related to his wounds five years later.
The drug dealers are three gangsters who shoot Bucciarati's father for stumbling upon their drug deal. They are murdered by Bruno Bucciarati, who was protecting his father after their attempt to assassinate him in the hospital.
Abbacchio's partner saves Abbacchio's life by jumping in front of a bullet when a criminal shoots at him. Abbacchio had hesitated to shoot the criminal because he had met him before and let him go free during a prostitution incident. However, the event haunts Abbacchio with guilt for the rest of his life.
The old janitor feels guilty when he accidentally extinguishes the flame on Polpo's lighter with a bucket of water. Feeling that it was important to Giorno, he reignites the flame. As a result, Black Sabbath rips his soul out and stabs it in the head with an arrow, killing him but with no external wounds displayed on his body.
The Sardinian fortune teller pries too much into Doppio's past, so Diavolo intervenes and forces him to divine the whereabouts of Risotto Nero. Diavolo then kills the fortune teller by impaling him with King Crimson's hand.
Two drunks are the first shown victim of Green Day's mold when one of them tries to urinate in a fountain down a set of stairs.
Unnamed Characters
Johnny Joestar uses the Corpse Parts after the events of Part 7 to heal his wife from a fatal illness, only for his son to catch the disease. On November 11, 1901, after transferring the illness to himself with the use of Tusk Act 4, he falls to the ground and is mysteriously killed when a boulder crushes his head.
Norisuke Higashikata I starts the Higashikata Fruit Company and dies later in 1931, before the events of JoJolion.
Rina Higashikata dies at some point before the events of JoJolion. After Johnny died, she is charged with Johnny's murder but is released due to lack of evidence. She is not seen again afterwards, but it is assumed that she raises George as a single mother in Morioh for the rest of her days.
Yoshiteru Kira dies in 1991 at the age of 46 from an unstated cause.
Yoshikage Kira dies from his injuries after fighting Tamaki Damo. He is found dead near the Wall Eyes where Josuke was found by Yasuho. Parts of Kira's mind and body were fused to Josefumi's, which formed Josuke's body.
Josefumi Kujo eats the Rokakaka fruit to exchange his life for Kira's, claiming that he was supposed to die long ago and that he owes Holy his life. An earthquake was happening at the moment, and the two are crushed by debris. His new body is found by Yasuho after the exchange from the Rokakaka occurred, with no memories of his past.
Yotsuyu Yagiyama is pushed into the sea by soap bubbles from Josuke's Soft & Wet in an attempt to force information out of him. Norisuke wraps Yotsuyu's body with nets salvaged from the shoreline using King Nothing, to prevent him from surfacing. Josuke then takes the air out from Yotsuyu's lungs to force Yotsuyu to answer his questions. However, the unexpected happens when Yotsuyu's rock human physiology causes his body to break down when he no longer is capable of skin respiration. Thus, he is unintentionally killed by Josuke.
Aisho Dainenjiyama is tricked by Tsurugi Higashikata's Stand Paper Moon King into thinking a bus was Jobin Higashikata. Before dying, he hallucinates that there are several Jobins behind him, which were actually buses. He is hit by one bus, turns into rock, and explodes to pieces. The bus then runs over his crumbled remains.
The A. Phex Brothers are both killed by Josuke and Karera. After Josuke fills Soft & Wet's bubbles with toxic gas from Schott Key No.2, the bubbles corrode the older brother's skin. Karera then lights the older brother on fire, as the younger brother tries to save him. Soft & Wet's bubbles all pop which then causes an explosion by releasing Schott Key No.2's poisonous gas. Both brothers turn into rocks and crumble into pieces.
Tamaki Damo nearly succeeds in murdering many members of the Higashikata Family until his skull and body is punctured in multiple areas by Hato Higashikata's Stand. Damo is killed by Josuke using Soft & Wet to shatter his head after he tries running away. His body becomes a rock and crumbles to dust.
Urban Guerrilla and Doremifasolati Do nearly succeed in killing Josuke Higashikata but fails as Rai Mamezuku tranfers oil into the ground and with the help of Josuke's bubbles - manages to light the oil on fire and both Urban and Doremifasoltai die by being burned alive before crumbling to dust
Poor Tom is nearly poisoned to death by Rai force feeding him deadly yew seeds, but he continues to fight Rai and Josuke as he believes that his allies in some ambulances in the distance will help him. After grabbing the Rokakaka branch and fleeing from Josuke's bubbles, he is shot in the head twice - killing him as his body turns to rock and crumbles to dust.
Unnamed Characters
Other Works/Media
(The information below derives from works and media not written by Araki. As such, it may or may not be considered canon.)

This section requires expansion.

This section requires expansion.

Gallery