This article lists possible references made in popular series and by popular artists to art or concepts defining to JoJo's Bizarre Adventure. Discussion of the legitimacy of these references can be found here.
References range in nature from tribute to plagiarism. Many are comic, while the "JoJo poses" in particular cross into greater cultural significance, with the greatest examples being those reproduced by a handful of popular Japanese performing artists.
Music
Hello! Project 
The idol groups of
Hello! Project
, like
ANGERME
, consists of a few JoJo fans. Their girls strike JoJo poses on their blog and sometimes mix JoJo references into their dance choreography.
Jojolion 
The grindcore group
[4]
is named for the most recent part of the series, and plays instrumental music with song titles from Stardust Crusaders, as well as using samples from the 1993 OVA.
Kyary Pamyu Pamyu 
Japanese model and artist,
Kyary Pamyu Pamyu
, often references the series through the iconic JoJo Pose. During an interview she has also mentioned having felt like a
Stand
user and has
named her dog JoJo
. In her music video for "
PONPONPON
", she can be seen doing several different poses referencing different anime throughout the video with the last featuring aforementioned pose.
RADIO FISH 
J-pop group, RADIO FISH, featuring Atsuhiko Nakata and Shingo Fujimori of comedy duo Oriental Radio, performed hit songs PERFECT HUMAN and ULTRA TIGER at the Halloween Music Festival 2016. The crew dressed up as characters from Parts 4-6 of JoJo with Fujimori as Narancia and Nakata as Yoshikage Kira.
Shoko Nakagawa 
The Otaku idol
Shoko Nakagawa
(a.k.a. Shokotan), a dedicated fan of the manga series, is known to imitate JoJo poses during interviews and live performances on stage. An avid fangirl of Jotaro on social media, she had at one point broken her tailbone on tour while trying to imitate Naranicia's pose.
[1]
On the Japanese Tv Show "溜池Now",
Shoko Interviews Araki
Starbomb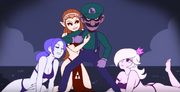 In the animated music video for the song "SMASH!," performed by American comedy supergroup
Starbomb
and animated by Studio Yotta,
Luigi
at some point does
Dio's
infamous "Wryyy" pose. Immediately after he is seen surrounded by
Wii Fit Trainer
,
Rosalina
and
Zelda
while mimicking
Giorno Giovanna
's famous "I have a dream!" pose.
[2]
Joel C, the director of the music video, has confirmed the references were intentional in his blog.
[3]
Yuka Kashino 
Yuka Kashino
from Japanese electropop group
Perfume
often talks about her love for JoJo in the media and has struck the pose with other members during photo ops. In addition, the choreography inspired by JoJo's pose appears in Perfume's music video "Natural ni koi site" that was released in 2010.
Anime/Manga
Ai Mai Mi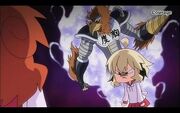 In Episode 4, while Mai is wondering if Mi had courage she suddenly summons a
Stand
-like figure engraved with the kanjis for "courage"
(

度胸

dokyō)
that looks much like
Magician's Red
.
Aoharu X Kikanjuu 
Aoharu X Kikanjuu's protagonist,
Hotaru Tachibana
, can be seen doing a JoJo-esque pose and having her toy-gun depicted in the manner of a
Stand
behind her in
episode 4
.
Assassination Classroom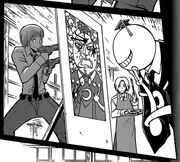 In chapter 176, we see various memories of the students hanging out/trying to kill their teacher
Koro-sensei
. In one of them we can see that one student painted the drawing in
Boingo
's
Thoth
style where we see
Jotaro
being hit by two bullets, but instead replaced Jotaro with Koro-sensei while there's another student waiting to fire at him with two guns, thus recreating the scene where the bullets pierce the drawing to hit its target.
Baka and Test 
The series is littered with
JoJo's Bizarre Adventure
references, ranging from poses to art style and even plot aspects. During a specific scene,
Akihisa
is seen trying
Himeji's
bentō
, only to be dragged into the darkness by a bunch of hands. There is also a scene in
episode 7
where an annoying man with
Josukue's
hair and his girlfriend try to get married at the
Kisaragi Park
. He features JoJo like frames and even does
Jonathan's
famous pose,
Jotaro's
pose when he angels at the sky, and
Killer Queens
' rock and roll pose.
Binbō-gami ga! 
Being a parody show, it has several brief and subtle references. In
episode 1
,
Ichiko
monologues her popularity and beauty, while imagining herself posing similar to
Kars
.
[4]
In
episode 6
, there is a scene of Ichiko looking like
Josuke
after returning
Keita
his handkerchief.
[4]
For the same scene, in chapter 9 of the manga, we only find a quote from Josuke's Speech about "wearing new panties on New Year's Day". In the 21th chapter of the manga,
Nadeshiko
expresses her jealousy and rage with Ichiko and
Ranmaru
resembling the scene when Josuke and
Jotaro
are being attacked by
Yoshihiro
in
Kira's
house in
Part 4
. In Chapter 32, the scene of a random girl attacking
Bobby
resembles the scene of
Esidisi
attacking
Caesar
after having taken control of
Suzi Q
's body, in
Part 2
. In chapter 40, a Binbōgami Item turns a pumpkin into a horse carriage that resembles one of the chariots used during the chariot race between
Joseph
and
Wamuu
, also in
Part 2
.
CLAMP 
The famous manga studio
CLAMP
have been fans of the JoJo series since before becoming well-known themselves. They have done several JoJo-based
dōjinshi
, the most notable of which is
CLAMP in Wonderland: 1994 Summer
and features the heroes of Stardust Crusaders. The JoJo character they created in that doujinshi also appears at the end of their first
CLAMP in Wonderland
video,
[5]
alongside their own series' characters.
Denki-gai no Honya-san 
In the first episode
Director
is asking to
Umio
what happen between he and
Hio
, Umio says "nothing", and then, Director come closer to Umio and "licks" his ear, saying that he has the "taste of a liar"; making a reference to the
Giorno
and
Bruno's
"taste of a liar" scene from
Vento Aureo
. In Episode 2, Director an Umio makes JoJo poses (Director as
Jonathan
, Umio as
Joseph
). In Episode 7, Director makes a JoJo reference.
Gate: Jieitai Kano Chi nite, Kaku Tatakaeri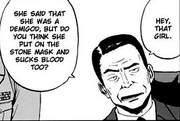 In chapter 22, a character by the name of
Rory Mercury
goes on a rampage against foreign special forces during the
Hakone Incident
. The Japanese Minister of Defense, an avid of fan of anime, asks if she had "put on the
stone mask
and
feeds on blood
". This was omitted from the anime adaptation.
Ghost in the Shell: Stand Alone Complex 2nd GIG 
In
Ghost in the Shell: Stand Alone Complex 2nd GIG
, on one of the
Tachikoma na Hibi
omake of the series, shows that after getting outfitted with a new "Agent" equipment one of the
Tachikomas
gets an
Araki
-style appearance and an ability to summon a stand-like Agent that has time-stopping power "Reset The World" (
Resetto Za Warudo
).
[6]
Gintama 
One of the arcs has the protagonists entering a haunted inn that services spiritual beings called "stands" (which are actually just ghosts), so that they may attain the happiness necessary for them to reach the afterlife. The "stands" may possess the "stand user" to grant him special abilities, which parody the conventional
Stand
naming derived from musical themes. The anime equivalent of the arc has
Gintoki
defining a "stand" while
Star Platinum
appears as an example, donning Gintoki's trademark attire, and includes a reference to Araki Hirohiko as a "backwards-aging fairy". The main antagonist of the arc,
Oiwa
, also uses Star Platinum's battle cry "ORAORAORA".
GJ bu 
In the episode 2, Kyoro is reading Volume 14 of the
JoJo's Bizarre adventure
manga. In the episode 7
Kyoro
turns into ORE-MAN and does several poses, a couple taken from JoJo.
Gokujo 
In both the anime and manga, the main character, Aya Akabane, is often seen doing JoJo-like poses when discussing things relating to beauty.
Haiyore! Nyaruko-san 
As a gag-series, it features one of the highest amounts of references to JoJo.
Episode 1:
"Earth's pleasures are the best in the universe!" (8:36) (Stroheim)
Episode 2:
Episode 3:
Episode 4:
"Defeating you won't be so hard." (14:02) (Rohan - Ch.375)
Episode 9:
You don't have to be so scared that you'll be stabbed with a fork. Relax, Nyarlko." (20:47) (DIO - Ch.252)
W Episode 1:
"Until you go to the nurse's office, I will not let go of your hand!" (10:14) (Jonathan - Ch.4)
W Episode 5:
W Episode 6:
W Episode 11:
"Hinjaku, hinjaku!" (0:44) (Dio - Ch.38)
Hanebado! 
In episode 9, when Connie Christensen calls the others to attention in the school tennis court from the second floor, main character Ayano Hanesaki, standing below Connie, signs to her that she "can see her panties" using the same unconventional signs ("pan-tsu-maru-mie") Polnareff makes during the High Priestess attack.
[11]
Hozuki no Reitetsu 
At the end of episode 9, during the next episode preview,
Hōzuki
is heard using the battle cry "Ora Ora" (very distinctly an impersonation of OVA
Star Platinum
) while he punches
Enma
, following with a
Hokuto no Ken
reference.
Hungry Marie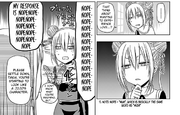 In chapter 10 of
Hungry Marie
, Taiga (appearing as Marie) repeatedly says "Nope" ("Muri", which is basically "Muda"). Anna tells him to settle down because he's starting to look like a JoJo's character.
Hyakko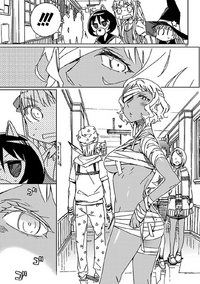 In chapter 43, a person cosplaying
Johnny
can be seen in the background.
Hyperdimension Neptunia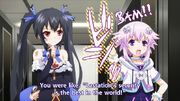 In episode 6,
Neptune
makes fun out of
Noire
who was convinced that her security system is unbreakable. She does it by paraphrasing
Stroheim's
famous quote accompanied with on-screen SFX.
[12]
Inō-Battle wa Nichijō-kei no Naka de? 
Inu to Hasami wa Tsukaiyou 
Kazuhito Harumi
, a high school boy who is obsessed with reading books is killed in the middle of a robbery and resurrected as a dachshund dog. While in his new form, Kazuhito is adopted by a man who owns a pet shop called Iggy (with a symbol of
Iggy
's face).
Kill la Kill 
In Chapter 1 (manga), upon realizing that she can't defeat the Boxing Team Captain,
Takaharu Fukuroda
,
Ryūko Matoi
uses her "trump card", which is: "Running Away!", surprising all present characters. This "trump card" is a reference to
Joseph´s
secret technique "Running Away!" (
nigerundaio!!!
) when he utilized it against
Straizo
and
Kars
, even the speech for revealing the "technique" and the running pose is recreated.
Kore wa Zombie Desu ka? of the Dead 
In episode 3 of this anime
Ayumu Aikawa
performs a dance to the hip-hop-like music. The lyrics of this song are a clear reference to
Jonathan's
most
famous attack
.
[14]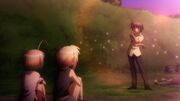 Jonathan: "Furueru zo hāto! Moetsukiru hodo hīto! Kisamu zo, ketsueki no bīto!! SUNLIGHT YELLOW OVERDRIVE!" (My heart resonates! Heat enough to burn! My blood's beat is razor-sharp!)
Ayumu: "Miro yo, ore no hāto! Kizame yo, ore no bīto! Sarani, ore wa bīto! Jōsho, junjō, sore wa yūjō!" (Look at my heart! Engrave my beat! Also, I'm the heat! Invincible and innocent, this is the friendship!)
The last words are a reference to
Bruford
's conversion from a zombie via the Sunlight Yellow Overdrive barrage. Ayumu ends the dance with
Dio
's pose.
Lucky ☆ Star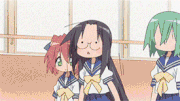 The show has several JoJo references. One in particular appears when
Hiyori
trips and falls to the ground in a dramatic manner. Her art style changes to that of JoJo and the similar SFX appear around her as well.
Macademi Wasshoi! 
In episode 4, in order to fight Baltia´s black giant, Eitaro Sakuma exclaims that he will fight her, meanwhile he makes a pose similar to
Risotto Nero
; and orders to his assistant Eineus to ´´launch the thing (a giant robot sized Eineus)!´´, making Joestar´s trademark facehand pose.
Maji de Otaku na English! Ribbon-chan: Eigo de Tatakau Mahou Shoujo - The TV 
In episode 7, all the main characters are gathered in a park "ready to defeat" the main antagonist. There, the main antagonist, Valko, is admitting her defeat but suddenly random side characters pop up. Valko reacts to this like it was ripped straight out of some kind of battleshounen series, with her hand striking a JoJo-esque pose, her hair resembling weirdly Polnareff from Stardust Crusaders and background effects showing and trembling.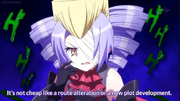 Maria Holic 
Episode 8 of the series shows JoJo-styled SFX, coupled with a "To be continued" sign.
Mayoi Neko Overrun! 
During a game of Jenga,
Chise
summons a
Stand
similar to
Star Platinum
to help her pull a brick out. There is another scene that is in the manga only, where the Stray Cat's Club is at the beach, and they appear to be making a sand sculpture of
Iggy
's stand,
The Fool
.
Meganebu! 
Towards the end of Episode 2,
Yukiya Minabe
finishes his pair of glasses and begins executing both
Joseph
and
Jotaro's
poses. In the episode 6, all the Meganebu's members perform famous poses on a train, like a challenge or game.
Monster Musume no Iru Nichijou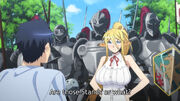 In Chapter 5 (
Episode 3
of the anime adaptation),
Cerea
explains that as a centaur, her species is known for being valiant knights who honor loyalty above all. She mentions that her various ancestors also served under similar values with visions of them appearing in the background. At this point,
the protagonist
asks if their images behind her are Stands.
[15]
Murcielago 
This manga has a small cameo of a
Stone Mask
in a panel from it's Chapter 12.
My Bride is a Mermaid 
Being a comedy show, Seto no Hanayome features some JoJo references in a parody fashion.
[16]
The Isono 8th Junior High Bancho group at some point strike multiple JoJo poses.
In the 20th episode, the viewer can see Kai doing Noriaki Kakyoin's pose when he prepares to fight Tower of Gray.
My Teen Romantic Comedy SNAFU 
In Episode 4 of Yahari Ore no Seishun Love Come wa Machigatteiru Hayama Hayato mimics Giorno's famous "I have a dream!" pose in Hachiman's delusion.
episode 7
, the character Hikigaya Hachiman is referencing
Stand
users by comparing them to loners. The complete line is "Just like how Stand users are attracted to each other, it looks like loners are also very adept at finding other loners."
No Game No Life 
* In episode 2, Stephanie Dola makes a fuss of her emotions towards Sora, and amid frustration, she shouts "
WRYYYYYYYY
!!" while striking a pose, directly referencing
DIO
in Part 3.
In episode 3, Sora says Rohan Kishibe's quote "But I refuse! (だが断る dagakotowaru)", and then, he and Shiro pose like Rohan does, refusing Clammy Zell´s proposal, similarly to Rohan rejecting Highway Star's proposal.
In Episode 8, upon seeing the Eastern Federation´s ambassador, Izuna Hatsuse, Sora and Shiro shouts King Crimson!!, skipping time and warping themselves to Izuna´side, referencing Diavolo´s Stand and his ability, and there, Sora references Cioccolata's petting of Secco after he did a trick with a huge text bubble full of よし.
In Special Episode 2, Sora imitates the scene where Pucci calms himself by counting prime numbers.
No-rin! 
In episode 3, Kamatori Kei wears a ridiculous swimsuit causing some characters to react much like Dio's friends when witnessing Dio kiss Erina. In the same episode, a scene change occurs referencing a scene from Steel Ball Run. In Episode 5, when Kaoru (Rose) Hanazono finds Ringo, he cites
Noriaki Kakyoin
's
"Saa, oshioki
(Rose says
oyatsu
)
no jikanda yo, baby"
quote, in English that will be
´´Now, it´s time for punishment
(Rose says
snacks
instead),
baby´´
. Also, Kousaku says Jonathan's famous
"Furueru zo haato! Moetsukiru hodo hiito!"
quote when he almost kisses Kaoru. There's a kiss scene similar to the Dio and Erina kiss between Kousaku and Kaoru where Kaoru says the same quote about Erina (Kousaku)'s first kiss; and Kousaku says the same phrase when Dio was being beaten by
Jonathan
, imitating Dio's crying scene. Also, Rose cites a couple times the catchphrase of Muhammad Avdol from Part 3 (YES, I AM!), and he loves prime numbers (like
Enrico Pucci
in Part 6). Kei makes various JoJo poses when he tries to stop Kousaku and Kaoru and when he explains Kaoru's true personality. Kaoru says
Melone
's
Bellissimo
and
Di Molto!
quotes.
Oniichan dakedo Ai sae Areba Kankeinai yo ne! 
In one episode Anastasia mentions her bear losing an arm and appropriately named Mr. Joester. In another episode, the cast is seen recreating iconic JoJo poses with sfx covering the screen.
OreShura 
One of the main characters, Masuzu Natsukawa, often brings up JoJo throughout the show. Natsukawa's "boyfiend" also happens to be a fan of JoJo, and whenever Masuzu's temperament gets too unpredictable, he even has the habit of using JoJo related topics to change the subject and brighten the mood.
Osomatsu-san 
Jyushimatsu prepares for his date in episode 9. In one of his outfits he is wearing the Stone Mask. Also in episode 8 While Jyushimatsu holds Iyami, JoJo-style "menacing" SFX for (ゴゴゴ) flows background.
Jonathan's
pose in episode 25.
Owarimonogatari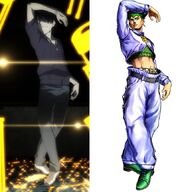 In episode 7,
Araragi
asks
Kanbaru
to resemble a samurai armor, in which she responds by suggesting he put it together while she gives instructions. Araragi gives a
senpai's
respect speech and does
Rohan's
pose. Interestingly, Araragi and Rohan have the same
seiyū
,
Hiroshi Kamiya
(at least in the videogames, not in the anime).
Rosario + Vampire 
The series has a number of blatant references to JoJo. One chapter appears to have been inspired by the
Tower of Gray
arc as the main cast travels to Hong Kong, but is intercepted along the way by an assassin and then survive the plane crash.
Saiki Kusuo no Psi-nan 
*In Episode 75, Kaido who was leading the way to a restaurant (and having poor sense of direction) says (while performing a JoJo pose) that they (he, Saiki and Nendou) are being attacked with a new Stand Power.
In Chapter 102, Saiki accidentally posed in a way that is similar to a JoJo pose while saying Jotaro's infamous catchphrase "Yare Yare Daze.."
In Episode 22 of Season 2, Kaido and Nendou argue over which Weekly Shōnen Jump character is the strongest. Nendo argues that it's either Luckyman or Arale whereas Kaido states that it has to be Giorno because Gold Experience Requiem can nullify any ability.
Sakigake!! Otokojuku 
Heihachi Edajima, the headmaster of Otokojuku, is shown reading the manga.
Sayonara, Zetsubou-Sensei 
In Episode 4 of
Zoku Sayonara Zetsubou Sensei
, the characters find some "ultimate weapon" buried beneath them, which turns out to be an Ultraman stone mask. Throughout the series one of the characters, Usui, is constantly trying to get attention due to being unnoticeable. In one episode where everyone's character is the opposite of what it normally is, he is very noticeable and appears in the JoJo art style while imitating familiar poses.
Sei So Tsui Dan Sha 
At one point in this H manga, the mother does Avdol's "YES I AM" pose, when Polnareff realizes he is actually alive.
Seitokai no Ichizon 
Sugisaki Ken, the main character, claims that all boys have a Stand called Illusion which enables them to fantasize about girls even when blindfolded. After that he makes one of Joseph's poses.
Minatsu says that Stands should not be counted as weapons in the colosseum while striking a JoJo pose with Killer Queen in the background.
Senyuu 
In one of the episodes a character named Samejima is portrayed in Araki style doing Joseph's pose accompanied by the SFX. Samejima and Joseph are also voiced by the same VA, Sugita Tomokazu. Another character, Februar, is shown in Araki style as well.
Shokugeki no Soma 
In Chapter 71, during Megumi & Kurokiba food battle, they invoke their imaginary
Stand
's and enter a blazing fist battle. The character design of Megumi is similar to
Spice Girl
, while Kurokiba's Stand has a skin pattern similar to
King Crimson
.
Shomin Sample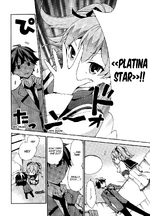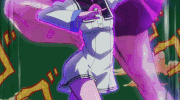 Aika Tenkuubashi, a high class girl in a private school discovers manga for the first time and comes to the assumption that all kids in normal schools have super powers. In the anime, she imagines showing off her avatar to everyone in a obvious JoJo-esque fashion. During the same scene in the manga, she "stops time" whilst doing a pose and shouting Platina Star.
Tantei Opera Milky Holmes 
One episode features characters striking some famous JoJo poses, such as Jonathan's, Joseph's, Jotaro's and Anasui's.
In the second season Hercule becomes a model for art lessons. Teacher orders her to make an inspiring JoJo pose which he calls 'exploding'.
In the TD opening Sheryl makes Joseph's face when he cries after Caesar's death.
In one episode of TD Nero emanates JoJo SFX-like aura.
From time to time spontaneous JoJo SFX appear and girls make manly faces.
THE iDOLM@STER 
In 6th episode Kotori imagines what would happen if the girls of 765 Pro were to open a
tamatebako
from
Urashima Tarō
myth. Her fantasies are shown as JoJo-stylized manga pages.
Toaru Kagaku no Railgun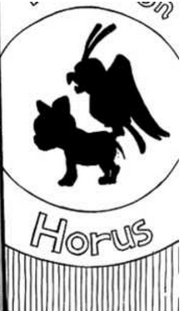 In the series, there is a restaurant located within Academy City, called Joseph's Coffee and Restaurant, notable for being often frequented by Misaka Mikoto and her friends. The name of the restaurant references the actual restaurant in Japan, Jonathan's Coffee and Restaurant, though in this case, they replaced "Jonathan" with "Joseph".
There is also a petshop featured in School District 7 and is named Horus Pet house, a direct reference to the part 3 antagonist of the same name and his stand. In the manga, the pet shop's logo features two animals, both of which seem to depict Pet Shop and Iggy, though this reference is lost in the anime.
In chapter 74, a precognitive esper named Shaei is introduced with the ability to use a camera to produce a photo of a future event. He describes an app that people use to find lost objects, using an example of an esper girl destroying a camera with a karate chop, referencing Joseph Joestar's usage of Hermit Purple's abilities.
Toaru Majutsu no Index 
In the first volume of the first chapter of the Toaru Majutsu no Index Light Novel, the narration references
JoJo's Bizarre Adventure
when it compared the atmosphere in
Touma's
room after he destroyed Index's clothing as when a
Stand
user has used its attack on someone.
To Love Ru Darkness 
In the 44.5th chapter of the series, the main protagonist,
Rito Yuuki
, is seen holding a bag of various
bizarre
items. The logo on the bag reads: Stardust Store - JOJO HAND, featuring pictures of the
Lucky Land Communications
logo. In Chapter 53, the character
Yami
is seen in the library reading a book whose cover features
Oingo
and
Boingo
in
Tohth
's artstyle. Part of Oingo's name can be seen on the spine and a picture of
Iggy
is shown on the back cover.
Triage X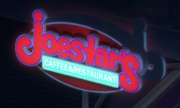 In the series, there is a character named
Yuu Momokino
who attends Mochizuki High School along with the
main protagonist
. She works as a waitress at the
Joestar
's Caffee & Restaurant, a reference to
Jonathan's
namesake.
UQ Holder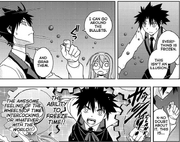 In chapter 105, while time is frozen,
Tōta Konoe
mimics
The World
during the flashback where DIO first tests it's ability. The scene even includes Tōta with his arms inside gears, recreating the interlocking wheels of time image. Two panels later Tōta says "and this is more than just five seconds!" referring to how long time has been frozen.
Watashi ga Motete Dousunda 
In episode 3, main protagonist Kae punches at the camera repeatedly while scream "muri" several times, just like
DIO
's "muda", and ends by doing Dio's "WRYYY" pose. In the second eyecatch of the episode 8, the Serinuma family are doing several JoJo poses: the protagonist Kae is doing Joseph's pose, her mother Mitsuko is doing Jonathan's pose and her older brother Takuro is doing Josuke's pose
Yakitate!! Japan 
In chapter 72, Pierrot shows his hate towards Microwave Bread, and while doing so, He throws a Barrage of Punches at a microwave while screaming his own name like a Stand Cry.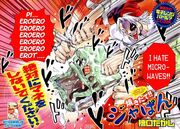 On one of the OMAKE 4-Koma comedy serie of Yakitate! Japan, you can see the mangaka commeting how long his manga has been running and that his Art Style changed so much over the years and that Art Style is none other than Jojo's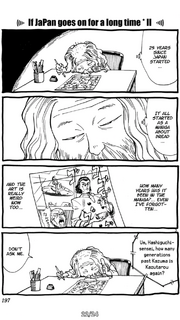 Yandere Kanojo 
In chapter 45, Manabu comments about
Stand
Users being attracted to each other.
Yo-kai Watch 
In episode 13, Keita becomes possessed by the dancing seaweed Yo-Kai Wakame-kun, Konbu-san, and Mekabu-chan during a physical education class on dancing. Throughout the day he is seen doing dance poses, Josuke's being one of them.
In episode 87, a yokai named
Otonabull
appears and possesses people, causing them to act like adults. At some point he meets
Manjimutt
and tries to become his apprentice. After he accepts, they decide to go on a bizarre adventure.
Yondemasu yo, Azazel-san 
Volume 7 of the manga features the
Stone Mask
as one of the exhibits in the
Legendary Treasure Museum
. In
episode 3
,
Salamander Kiritake
was introducing himself with JoJo-styled SFX effects in the background.
Zatch Bell!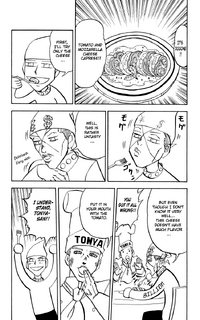 In the extra chapter of volume 25 of
Konjiki no Gash Bell!!
, a parody of the
Tonio
chapters was done in 3 pages by Mamodo (Demon) Raiku. In those pages, he reenacts the scene between Tonio and
Okuyasu
by feeding himself a Mozzarella and Tomato Salad while dressed in their attire.
Video Games
Bayonetta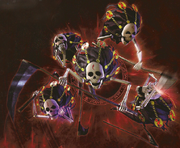 Of the many Infernal Demons that can be summoned by Bayonetta during a Climax Attack, the Little Devils are an obscure reference to
JoJo's Bizarre Adventure
, more specifically
Guido Mista
's
Sex Pistols
. Director Hideki Kamiya has mentioned during a commentary that, much like Sex Pistols, each of the five devils have their own personality, and have a number written on their foreheads, with the #4 (or the #2 in the case of the little devils) missing as it may be considered very unlucky by
Zero
, the King of the Little Devils.
[20]
Cyberbots: Full Metal Madness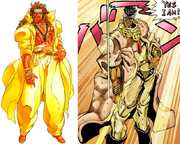 The character Santana is likely a reference to mostly part 3, but also includes some part 2 elements. Appearance-wise, he strongly resembles
Muhammad Avdol
, with his official artwork mimicking Avdol's 'YES I AM!' pose. His voice actor is also Kiyoyuki Yanada, who voiced Jotaro in the Capcom fighting game. Aside from this, his name is also possibly a reference to the pillar man,
Santana
.
Danganronpa 
During his initial introduction, the protagonist, Makoto Naegi, points out that he does not have a
Stand
. Additionally, the Japanese delinquent, Mondo Oowada is an homage to
Josuke Higashikata
, sharing Josuke's hairstyle and is easily offended when people make fun of it. He is also the leader of a motorcycle gang named the
Crazy Diamonds
. The first execution of the game, The 1000 Blows, has Leon Kuwata being hit 1000 times with baseballs, similar to how
Jolyne Cujoh
defeats
Miraschon
. The villain of the game, Junko Enoshima, has multiple personalities, with one of them constantly acting as Dio and saying "Muda, Muda, Muda" during her Machinegun Talk Battle, also she is making the JoJo Pose (those things appeared also in the anime). One of the items the player can gift is called the Meteorite Arrowhead, a blatant reference to the
Arrow
. The sequel, Super DanganRonpa 2, has the character Teruteru Hanamura mentioning that people can tell if others are lying by the taste of their sweat. The game also features Monokuma attacking Monomi with a
Heaven's Door
parody and in another occasion attacking her with a flurry of punches while screaming ORA ORA ORA!!! and making her land into a trashcan.
Dark Souls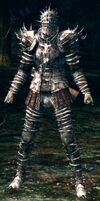 According to the interview found in Design Works artbook, the design of the Thorns Set originated from the concept of the 77 Rings Challenge. In the challenge, combatants must defeat each other and wear the metal rings from each foe, increasing the weight they bear as they continue. The team's idea was to use this design and try adding spikes to the rings.
Just before the Iron Golem boss, you can summon a white phantom named Black Iron Tarkus, which is likely a reference to Tarkus, as they share many similarities. They are both large powerful warriors who carry unwieldy weapons and thick armor, who both fall off a cliff in a similar fashion.
In Dark Souls II, you can encounter a boss called
Executioner's Charot
. During the original network test prior to the games release, this boss instead had the name
Silver Chariot
, referencing the Stand of the same name from Part 3.
Devil Beater 
In the game exists a secret playable character based off of the character
Diavolo
, specifically his form as
The Boss
, named "Solido Naso". While slow, he can summon his Stand, Ruler Red, to deal large amounts of damage and knockback.
Devil May Cry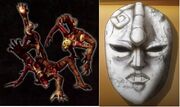 One of the enemies' mask design for
The Nobodies
is based on the Stone Mask.
[21]
Dota 2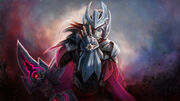 The Hero "Faceless Void" does one of DIO's poses while using his ultimate ability "Chronosphere", which stops time. He also has a green heart for a belt buckle.
One of the loading screens features the character Phantom Assassin doing Jonathan's pose, not only that, but the previews in the Steam Workshop of the whole set (Bloodroot Guard) features various JoJo poses (Giorno, Jotaro, Ceasar and DIO)
Dungeons & Dragons: Shadow over Mystara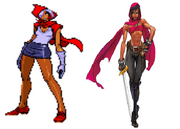 The female Thief's character design and name (Moriah, if selected her default name) was possibly based on
Mariah
.
Hyperdimension Neptunia 
In Re;birth1, when the heroes discuss Noire's status as a loner, Neptune says her Stand power tells her Noire has no friends. MAGES.'s victory screen has her pose like Caesar's iconic pose. Rom and Ram have special attacks that open with them posing similar to Caesar. In Megadimension Neptunia VII, Neptune quotes Polnareff's speech from when he was exposed to DIO's The World. In Superdimension Neptune VS Sega Hard Girls, Neptune references the smoke trick Jotaro used to expose the Impostor Captain Tenille.
Kaiser Knuckle series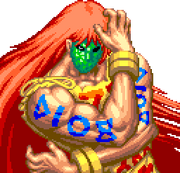 One of the boss characters, Azteca, wears a face mask that is very similar to the
Stone Mask
. Also of note, his character select portrait shows that he has "DIOS" (Spanish for God) tattooed on his arm, which is reminiscent of "
DIO
", and his pre-fight animation consists of him bursting out of a stone pillar. His pose in the character select screen may be based on Kars' after becoming the Ultimate Life Form.
Marvel Super Heroes vs. Street Fighter 
Omega Red's ending in the crossover game Marvel Super Heroes vs. Street Fighter shows him having defeated/killed Ryu, with Ken deeply distressed and exalted questioning him shouting "how many lives have you ended?", to which only responds grinning "do you count the number of breaths you've taken?".[22]
This could be a reference to when
Will A. Zeppeli
made a very similar question toward vampire
Dio Brando
("how many lives have you sucken away to heal those wounds?"), only to be answered cynically with "how many breads have you eaten in your life?".
[23]
Mercenary Kings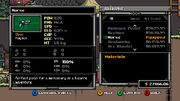 In the game there is a magnum-class pistol listed as "Horse", designed similarly to
The Emperor
, and complete with the description: "Perfect Pistol for a mercenary on a bizarre adventure."
Monster Hunter 3G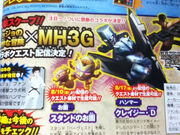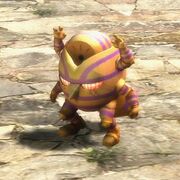 The game had an event in which you could unlock a hammer based off
Crazy Diamond
that can heal your allies, and a mask based off
Harvest
that can be equipped to your Shakalaka and constantly gain money.
Mr. Massagy 
For one on the profile picture options, your character, Johnny, poses in a similar fashion to
Jonathan's
famous pose.
NekoPara 
After Chocola and Vanilla had lost consciousness by playing with catnip, their Master took them to the bed. After Vanilla woke up she wonders why it's so late and suspects a Stand user attack. After Chocola, Vanilla and Coconut burn their tongues on hot coffee, they suck on ice cubes and make Kakyoin's "Rero rero rero rero~" sound.
Persona Q: Shadow of the Labyrinth 
An animated cutscene in the game introduces the
Persona 4
cast posing as different JoJo characters: Narukami as Jonathan, Yosuke as Dio, Chie as Jotaro, Yukiko as Josuke, Naoto as Giorno and Kanji as Joseph.
Persona 5 
The World
is one of the responses to the question "What is the name of the phenomenon where the second hand looks like it stops moving?", asked by one of the teachers in school.
Psychic Force series 
Richard Wong is a Psychiccer with the power to control time. He naturally compliments this ability by swarming the enemy with summoned daggers (usually after immobilizing them with a large sword) and uses teleportation as a highly evasive maneuver and as a means to swarm the opponent with more attacks.
Rosenkreuzstillette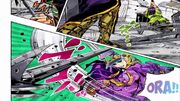 Sichte Meister is a homage to DIO . Like DIO, Sichte uses knives to attack and has the ability to manipulate time. She also shouts "Toki wo tomare!!" while freezing time and placing knives that zeros-in on the player in Rosenkreuzstilette.
In the sequel Rosenkreuzstilette ~Freudenstachel~, she crushes the character with a giant block similar to how DIO dropped a steamroller on Jotaro.
Sichte also shares resemblance of Kakyoin Noriaki's signature Emerald Splash attack, referenced by her emerald-shooting. Her stage Rosenkreuzstilette ~Freudenstachel~ is a clock tower, refers to where Kakyoin dies.
School Idol Project 
In the Love Live rhythm action game, a recruitable character Fumie Nishimura can be seen holding a book (on the level 1 version of her card). The character on the cover of her book seems to closely resemble the younger
Joseph
with
Caesar's
triangle-patterned bandana tied around his head. The coloured spheres in the background appear to symbolize the bubbles that Caesar is capable of generating with his ability.
Screencheat 
One of the messages the player receives after killing an opponent in the game is
Sunlight Yellow Overdrive
while the defeated player's screen says
WRYYYYY
.
Senran Kagura series 
Senran Kagura 2 Deep Crimson, Mirai has an outfit called "Camisole" with 4 different colors to it. 2 colors have the words "
Star Platinum
" surrounding a star in the middle of the camisole while the other 2 colors have "
The World
" surrounding a globe.
Shin Megami Tensei: Strange Journey 
The Cursed
Sarai
is a weapon described as "The Sword of
Anubis
that drives people mad. An enemy-only ability is called
Bites The Dust
that inflicts the Bomb status on a target. Said target will explode and die instantly next time it is attacked.
Skullgirls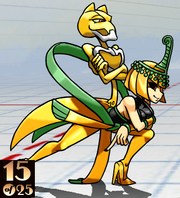 Two playable characters from Skullgirls, Valentine and Peacock , are an homage to Dio Brando/DIO. Valentine can stop time and throw knives similar to DIO,[27] and Peacock can drop a steamroller on her opponents[28] though it is very rare.
Another character, Big Band , which was later added as DLC, shouts in similar fashion to Star Platinum during one of his Blockbuster attacks though, Big Band shouts "Tuba Tuba Tuba" instead.[29]
Another DLC character, Eliza, has a color palette inspired by DIO's color scheme. In the patch notes for the release, the developers referenced one of Dio's more familiar quotes.
Steins;Gate 
The protagonist, Okabe Rintarou, while talking with Suzuha Amane, references The World in an allusion that he sensed the time had stopped.
Is it, ORAORAORA?!
" which is a very basic lie detector; so basic that in reality it can only read people's sweat levels. They also like using Rohan's "
I refuse
" quote, which eventually outed someone as an otaku.
Street Fighter series 
Lead designer of
Street Fighter 2
,
Akira Nishitani
, stated in a interview with Polygon that the concept of Dhalsim's ability to stretch his limbs comes from the
Ripple
"Zoom Punch" technique
.
[30]
This is reconfirmed in the comment section of Dhalism's bio in the Street Fighter X Tekken Artworks artbook.
In an interview with producer Noritaka Funamizu, he reveals that Guile's overall appearance was modeled after Jean Pierre Polnareff.[31] Guile's page in Street Fighter X Tekken Artworks goes into detail, explaining that early designs included Polnareff's vertical, yet modest hairstyle, but at the time the sprites were being made for Street Fighter II, the pixel artist jokingly stretched Guile's hair out to the sides. The team found it amusing and decided to give him "the always distinctive Stroheim look" instead. Noritaka also explains that Guile's name was derived from Polnareff's archenemy, J.Geil, though this was apparently the result of a mix up from the development staff at the time.[32]
Rose was inspired by Lisa Lisa,[33] her outfit is almost identical to Lisa Lisa's and both share a similar fighting style that consists of channeling energy into their scarfs (Soul Power in the case of Rose and Ripple in the case of Lisa Lisa).Additionally, both characters like to take baths and Rose's stage in Street Fighter Alpha 2 is Venice, which is the same city where Joseph meets Lisa Lisa in the story.
Juri Han from Super Street Fighter IV has hair and clothes similar to Jolyne's. In addition, Juri has a spider motif and cleaves a butterfly in her official artwork; Jolyne has a butterfly motif and her Stand turns her body into threads and webs + she has spiderweb-patterned clothes. Juri even has the same "ora ora ora" battle cry as Jolyne.
Suikoden series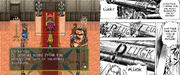 In the first
Suikoden
game the emperor
Barbarossa Rugner
gives a sword named
Pluck
(mistranslated as "Prakk" in the English version) to one of his generals,
Teo McDohl
.
Tekken series 
In his interview with EDGE magazine, Katsuhiro Harada, director of the Tekken series, admits that
Paul Phoenix
's hairstyle and first name are based on
Jean Pierre Polnareff
's. Masamichi Abe, now at Nintendo but back then a member of the Tekken planning team, was a fan.
[34]
Kazuya Mishima's combat gloves, strongly resemble Star Platinum's. In Tekken 3, Jin Kazama has the same combat gloves as both of them, but longer.
Kazuya's Devil form in the original Tekken game bore a strong resemblance to Star Platinum, down to the purple skin, hairstyle, clothing and the aforementioned gloves.
In Tekken 7, Claudio Serafino poses similarly to DIO in one of his moves, and as a customization item labeled as the "Ancient Mask" which is clearly modeled after the Stone Mask.
Terraria 
*In Terraria, there is a weapon called "Vampire Knives" which are likely to be a reference to
Dio Brando
; Specifically, to Shadow Dio's knife throw from the arcade fighter of the same name, whose knives fan out in a manner similar to this weapon.
There is a set named the Stardust armor that allows the player to summon a Stardust guardian when all the pieces are worn. The guardian will follow by floating directly behind them, and the player can order the guardian to move and attack enemies.
The Battle Cats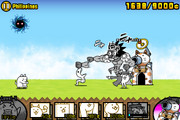 Within the popular tower-defense mobile game, there is a
Super Rare Cat
unit referred to as "
Delinquent Cat
". Unlocked by playing the
Rare Gacha/Jackpot
, Delinquient Cat's appearance resembles that of a
banchō
and it's main form of attack involves pointing in a JoJo-esque manner and summoning a creature similar to
Star Platinum
to bombard the enemy with flying fists.
The King of Fighters series 
Benimaru's appearance was loosely based on Polnareff,[35] right down to his outfit in The King of Fighters '94 and The King of Fighters '95. Even after Benimaru's name was decided, the game developers continued to refer to him as Polnareff.[36] Additionally, his taunt in The King of Fighters XI mirrors Polnareff's stature from the manga.
Touhou Project 
In the sixth game of the
Touhou Project
 "The Embodiment of Scarlet Devil", the final boss Remilia Scarlet quotes
Dio
's famous bread phrase in Marisa's Scenario.
In the eleventh game Subterranean Animism, Yuugi, an oni, fights Marisa "without spilling a drop of sake" (stated by Patchouli).
Two of Kaguya Houraisan's Spellcards have references to JoJo's Bizarre Adventure, the first one being Divine Treasure "Salamander Shield", which has in its comments a blatant reference to Esidisi. And the other one being New Impossible Request "Red Stone of Aja" referencing the valious stone in Part 2, the Red Stone of Aja.
Sakuya Izayoi is a maid who is the servant of the vampires Remilia and Flandre Scarlet. It's generally assumed that she's a tribute to DIO, as she employs the same style of combat (stopping time and using throwing knives) and even has attacks named after DIO's Stand power: Illusion World "The World" and Sakuya's World. JoJo's Bizarre Adventure has been referenced several times in the official games.
In Double Dealing Character, one of Sakuya's Spell Cards erases the time (respectively the present and future) of the surrounding bullets and thus erases the bullets. This might be a reference to Diavolo's Stand and implies that Sakuya might not be only a reference to Dio. In the seventh game Perfect Cherry Blossom, once Marisa defeats Ran (a shikigami), she asks her if she is a Long-distance Type, because her master is far away and she is quite strong. This is a clearly reference to the Stand Types in JoJo's Bizarre Adventure.
In Symposium of Post-mysticism, an official Touhou Fanbook, Toyosatomimi no Miko says that Koishi Komeiji "stopped thinking", using the phrasing of the famous line After a while, he stopped thinking (そのうち、考えるのをやめた。, Sono Uchi Kangaeru no wo Yameta) referencing Kars.
World Heroes series 
Dio
/
Neo Dio
is based on
Dio Brando
and
Araki's
earlier work
Baoh: The Visitor
. Neo Dio's visual design is based on the protagonist of the manga, Baoh, while the dialogue in
World Heroes Perfect
is a reference to Dio Brando, such as the famous "Muda Muda!" and "Wryyy!" (in
Neo Geo Battle Coliseum
, his dialogue is more like Santana's). Dio's dialogue from
World Heroes
is also a reference to Dio Brando's lines. He also takes inspiration from
Kars
as he can form blades from his arms in certain moves, as well as how said moves are named "Sonic Saber" and "Grand Saber" reminiscent of Kars' "Bright Saber" title.
Yakuza series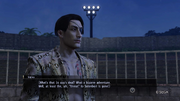 One of the playable characters in
Yakuza 0
,
Goro Majima
, fights a boss named Jo Amon. After defeating him, Majima remarks what that "Jo" guy's problem was and how overall the experience was a "bizarre adventure".
Other
Archie's Sonic the Hedgehog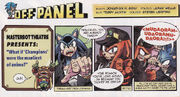 The 270th issue of the
Archie's Sonic the Hedgehog
comic book series, features a
Off Panel
comic strip in the back of the issue portraying
Sonic
and
Knuckles
as
Kenshiro
and Jotaro respectively. The theme of the strip refers to the manliest of anime and concludes with Knuckles and Sonic engaging while shouting "OraOraOra" and "MudaMudaMuda".
Gaia Online 
In the popular pixel avatar site
Gaia Online
, there is an obtainable item known as
Roto's Hat
. This item's first pose allows the avatar of the site to wear a hat identical to that of Gyro's, named Roto's hat. During a Halloween event on the same site, one of the NPCs is dressed in Gyro's outfit.
This item's second pose allows the avatar of the site to wear a hat identical to Johnny's, cleverly named Joey's hat.
The item called K.O. Star; one of the poses (titled Spin) allows you to wear gloves similar to the Roto Hat's second pose. The other poses have the titles: Ballistic, Spirals, Steel Wind, Time Stop, and Za Warudo, each with designs relating to their respective name.
The item RIO Star has several iconic accessory references, including DIO's face, stop sign, roadroller, Jockey headgear, and a vague impersonation of The World (titled Summoning Rapid Infinity). It also includes Josuke's lapel emblems, Giorno's hair, and Jotaro's face and an impersonation of Star Platinum (titled Summoning Stardom).
WIN Star is another item with several accessories referencing the series. Of which, the most obvious being Jolyne's hairstyle, Giorno's ladybugs, and a dog resembling Iggy.
Heroes 
In the NBC drama
Heroes
, a fictional Japanese salary-man named
Hiro
is a fan of
JoJo's Bizarre Adventure
. In his blog, he states that he wants to "be like JoJo and Vaan and go on adventures" and that Part 3 is his favorite, especially the fights against the
D'Arby
brothers. One of his powers includes time manipulation, a gift shared with both Jotaro and DIO. In his blog he also mentions Joseph, Suzi Q and Boingo, whom he compares with
Isaac
. Isaac was an artist and comic book author whose works predicted the future just like Boingo's
Thoth
. Hiro later manages to stop time for more than 5 seconds and says that "JoJo was wrong" and posts on his blog under the pseudonym Jotaro Kujo. In the episode
Lizards
Hiro uses DIO & The World's battle cry "Muda Muda" during the
Battle of Twelve Swords
. He uses it again to taunt
Daphne
while using his time manipulation ability to escape after taking
her medal
.
Live with Yourself!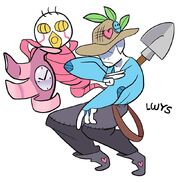 In the
Ep.29
of online webtoon
Live with Yourself!
by Shen, Tomo discovers Babs can pull objects into his timeline by observing them which results to said objects into aging rapidly, such as growing a tree from a seed. And when Todd came back, Tomo strikes this pose with Babs as a Stand.
Mao Asada & Usain Bolt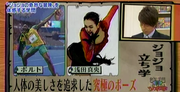 As noted by JoJo's Posing School, figure skater Mao Asada and real-life runner Usain Bolt may have influenced or have been influenced by poses featured in
JoJo's Bizarre Adventure
.
[37]
Ballmasterz:9009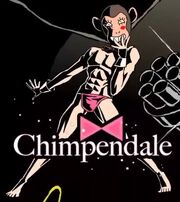 In the 9th episode of Adult Swim's Ballmasterz:9009. One of the rivaling teams members can be seen striking the same pose as
Phantom Blood
protagonist,
Jonathan Joestar
.
References