Home
Talk

14
1,782pages on
this wiki
Administrators • Page Layouts • Manual of Style • Image Guidelines • Name Variants • Vandalism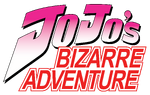 Welcome to JoJo's Bizarre Encyclopedia, an online encyclopedia dedicated to hosting information related to JoJo's Bizarre Adventure which anyone can edit. JoJo is property of Hirohiko Araki, and this Wiki's goal is to compile all materials and official information related to this ongoing series. Any help in doing so is greatly appreciated! This Wiki will contain spoilers.
Recent Chapter
JoJolion Chapter 30 is out!
Pursuit (追跡 Tsuiseki)

----

Having escaped the invasion of chestnuts, Josuke and Norisuke confront Tsurugi and discover the perpetrator is the Higashikata Mansion's architect, Yotsuyu Yagiyama. Yotsuyu flees the basement with an unconscious Yasuho, and the two begin the hunt for the eluded architect. Read more details of this month's chapter here!
Create blog post

wouldn't it be cool if we could get wikia to allow only shueisha adverts on this wiki (i can't think of a way to expand relevantly beyond that except amazon links to jojo/shueisha producks. including your figurines and whatnot)

Read more >

See more >
Latest Affiliates
Affiliated Sites
If you would like to become an affiliate of JoJo's Bizarre Encyclopedia, contact MetallicKaiser or Bohemian King .
Help Needed!
The JoJo chapter pages need summaries. Whether you've read the manga, or just started it, feel free to write your own summaries on the pages that don't have them. The chapters can be found here!
We need information about the novels and translators!
Learn more about the translation project.
March / April 2014 Poll
Most Appropriate Stand Name
March / April 2014 Poll
Most Inappropriate Stand Name
February Poll Winner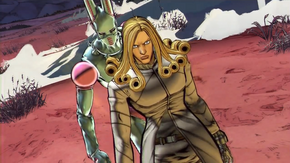 ---
Favorite All Star Battle Character Theme Poll's Winner,
With 79 and 21.35% of all votes, is
1. Funny Valentine's "They Are All Those of Justice" (Listen here)!
2. Josuke Higashikata - "Golden Spirit" -  68 votes; 18.38% of total (Listen!)
3. Narciso Anasui - "His Name is Annasui!" - 51 votes; 13.78% of total (Listen!)
---
Yoshikage Kira just wants a quiet life - Kira | 32 (8.65%) votes
Arriverderci! - Buccellati | 27 (7.3%) votes
Light Mode - Kars | 23 (6.22%) votes
Ultimate Weapon BAOH - Baoh | 21 (5.68%) votes
Kiss of Love and Revenge - Ermes | 18 (4.86%) votes
LISA LISA - Lisa Lisa | 18 (4.86%) votes
Heritage for the Future - Jotaro | 17 (4.59%) votes
Dawn of Destiny - Pucci | 10 (2.7%) votes
I Want To See The Starlight - Jolyne | 6 (1.62%) votes
---
JoJo's Bizarre Adventure: All-Star Battle (ジョジョの奇妙な冒険 オールスターバトル) is a fighting game based on the JoJo's Bizarre Adventure franchise, released for the Playstation 3. The game's soundtrack was composed by Chikayo Fukuda.
Get the My Wikia App!
With Wikia's official flagship app, My Wikia, you can search for communities and add them to your home screen and read constantly evolving, deep content in a customizable format.
DOWNLOAD NOW FOR FREE!

Twitter feed