Home
Talk

32
1,917pages on
this wiki
This Wiki includes spoilers of an unpredictable spread throughout articles – Please proceed with caution!
Create blog post

Hello again, everybody. What is up? That's right, the newest episode of Jojo's Bizarre Adventure Stardust Crusaders. Sethan's Alessi Part 1. Shouldn't it be Alessi's Sethan? You know, referring to the fact that Alessi's Stand is Sethan (or Seth as I like to call it because it's a cooler version of the name) because Seth's Alessi makes it sound like Alessi is the Stand. Well, whatever. On with the review!!

Now, this is the second-most awkward episode I have ever watched. Boy, I feel like if the a…

Read more >

See more >
Community Links
Official JoJo Sites
Affiliates
If you would like to become an affiliate, please contact MetallicKaiser or Bohemian King.
December/Janurary 2014 Poll
Most Disappointing Ending?
July/August 2014 Poll Results
By 427 (35.88% of) votes,
the leader of the July/August Poll,
for Best Looking Stand, goes to
Killer Queen,
the stand of Yoshikage Kira.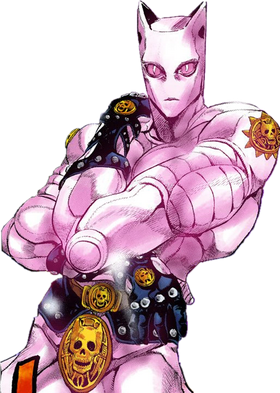 Killer Queen is a short-range humanoid Stand with the unique ability to turn anything it touches into a bomb. Elegant and Cat-like, Killer Queen is among one of Araki's favorite things to draw.
Runners-up: Star Platinum (208 (17.48% of) votes); Dirty Deeds Done Dirt Cheap (145 (12% of) votes); Soft & Wet; Silver Chariot / Requiem; Purple Haze; King Crimson; The World; Gold Experience / Requiem; Tusk; Black Sabbath; King Nothing. The poll was created on August 17, 2014, and 1190 people voted.
Upcoming Releases
October 17, 2014


JoJolion Volume 8(112): Daily Summer Vacation
(毎日が夏休み Mainichi ga Natsuyasumi)
Chapters 31 - 34
December 26, 2014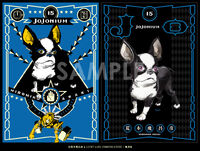 JoJonium Volume 15
Featuring: Iggy & The Fool
Chapters: TBA
Get the My Wikia App!
With Wikia's official flagship app, My Wikia, you can search for communities and add them to your home screen and read constantly evolving, deep content in a customizable format.
DOWNLOAD NOW FOR FREE!