This Wiki includes spoilers of an unpredictable spread throughout articles – Please proceed with caution!
JoJo News!
Featured Article
Forum Feed
Forum Activity
Featured Videos
Blog Feed
Since there's a page talking about the concepts of alternate universe, I feel that Fate is also a key concept in Jojo that we should try to define in a page. So it's also a necessity to talk about it somewhere, how it is shown to work in the series.

Read more >
Help Needed!
Community Links
Official JoJo Sites
Affiliates
If you would like to become an affiliate, please contact MetallicKaiser
Twitter
April 2016 Poll
Most Anticipated Fight in the Part 4 Anime (First Half)?
April Calendar
February Poll Results
By 319 (44.06% of) votes,
the leader of the February 2016 Poll,
for Favourite JJBA last chapter/story arc title, goes to
The World of the Stars and Stripes.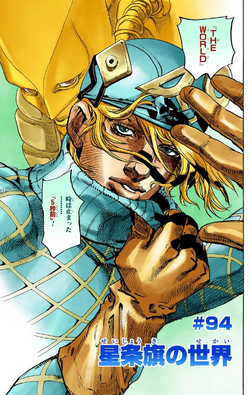 The World of the Stars and Stripes is the final chapter in Steel Ball Run.
Runners-up: What a Wonderful World (167 (23.07% of) votes); Goodbye, Morioh Town - The Golden Heart (72 (9.94% of) votes). The poll was created at 13:23 on February 1, 2016, and so far 724 people voted.
Upcoming Releases
March 18, 2016JP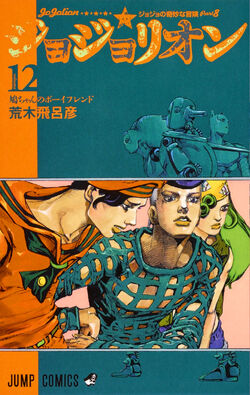 JoJolion Volume 12(116): Hato's Boyfriend
(鳩ちゃんのボーイフレンド Hato-chan no Bōifurendo)
Chapter 47 - Chapter 50
Get the My Wikia App!
With Wikia's official flagship app, My Wikia, you can search for communities and add them to your home screen and read constantly evolving, deep content in a customizable format.
DOWNLOAD NOW FOR FREE!