This Wiki includes spoilers of an unpredictable spread throughout articles – Please proceed with caution!
JoJo News!
Featured Article
Forum Feed
Forum Activity
Featured Videos
Blog Feed
So, out of curiousity, what would happen if the concept of Aura from RWBY and the concept of Stands from here both exisited. What would happen if one has both an Aura and a Stand. would it be redundant? Would it be an enhancement of one of the two? What do you think?

Read more >

Hi guys, I don't want to self advertize or anything like that. But for the people who was subscribed to my YouTube channel: "The JoJo Fanatic" I'd just like to say that my channel got taken down yesterday for a "chase" analysis video on my channel.

So for the people that are wondering were I am, if …

Read more >
Help Needed!
Community Links
Official JoJo Sites
Affiliates
If you would like to become an affiliate, please contact MetallicKaiser
Twitter
September 2016 Poll
Most Anticipated Fight in the Part 4 Anime (Second Half)?
September Calendar
August Poll Results
By 527 (56.42% of) votes,
the leader of the August 2016 Poll,
for Worst Copyright-Changed Stand Name?, goes to
"Filthy Acts, at a Reasonable Price"
(Dirty Deeds Done Dirt Cheap).
Dirty Deeds Done Dirt Cheap is the Stand of Funny Valentine, featured in Steel Ball Run.
Runners-up: "Zipper Man" (Sticky Fingers) (162 (17.34% of) votes); "Flaccid Pancake" (Limp Bizkit) (114 (12.21% of) votes). The poll was created at 00:45 on August 1, 2016, and so far 934 people voted.
Upcoming Releases
March 18, 2016JP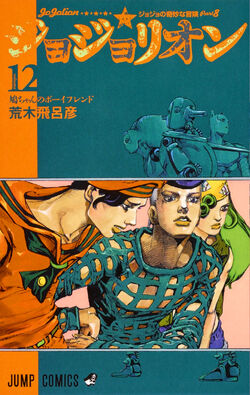 JoJolion Volume 12(116): Hato's Boyfriend
(鳩ちゃんのボーイフレンド Hato-chan no Bōifurendo)
Chapter 47 - Chapter 50
September 28th, 2016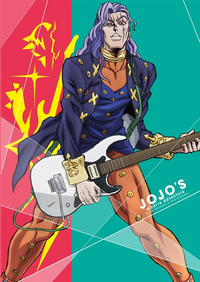 Diamond is Unbreakable: Volume 4
Episodes: 10 - 12
Get the My Wikia App!
With Wikia's official flagship app, My Wikia, you can search for communities and add them to your home screen and read constantly evolving, deep content in a customizable format.
DOWNLOAD NOW FOR FREE!