This Wiki includes spoilers of an unpredictable spread throughout articles – Please proceed with caution!
JoJo News!
Featured Article
Forum Feed
Featured Videos
Blog Feed
I want to become number 3 on this wiki, so i must get the badge

Read more >

hi dudes and duetes!

i'[m bak from a lng hituous. sory for not ponsting i gt cot up in soemthing els. i stll thienk that speedwanker is bed, and i've vinted abut him alut to u guys so i fel liek  its gotten old. whitch it haz 2 sme pelple... (U KNO WHO U R) so feel free to drop a coment & il look @ …

Read more >
Help Needed!
Community Links
Official JoJo Sites
Affiliates
If you would like to become an affiliate, please contact MetallicKaiser
Twitter
August 2017 Poll
Favorite Battle in JoJolion (First Half)?
August Calendar
July Poll Results
By 413 (58.09% of) votes,
the leader of the July 2017 Poll,
for Least Favorite Stand of the JoJo Antagonists, goes to
Whitesnake.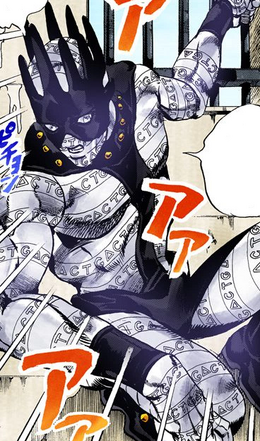 Whitesnake (ホワイトスネイク, Howaitosuneiku) is the Stand of Enrico Pucci, featured in Stone Ocean.
Runners-up: King Crimson (115 (16.17% of) votes); The World (95 (13.36% of) votes). The poll was created at 09:25 on July 1, 2017, and so far 711 people voted.
Latest Releases
July 19, 2017JP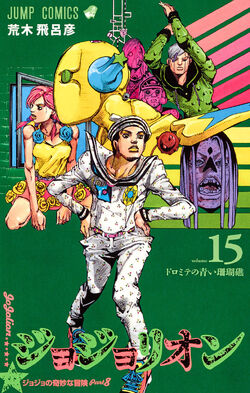 JoJolion Volume 15 (119): Dolomite's Blue Lagoon (ドロミテの青い珊瑚礁, Doromite no Aoi Sangoshō)
Ch. 59 - 62
August 8, 2017NA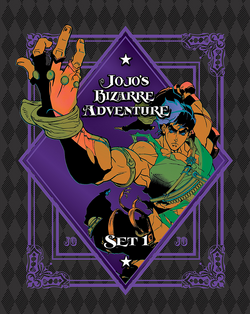 JoJo's Bizarre Adventure: Set 1
Episodes: 1 - 26

Get the My Wikia App!
With Wikia's official flagship app, My Wikia, you can search for communities and add them to your home screen and read constantly evolving, deep content in a customizable format.
DOWNLOAD NOW FOR FREE!

If you see this, your JavaScript might be disabled or DiscordIntegrator plugin isn't working. If the latter, please contact a wiki administrator.