This Wiki includes spoilers of an unpredictable spread throughout articles – Please proceed with caution!
Welcome to JoJo's Bizarre Encyclopedia,
a fan Wiki dedicated to JoJo's Bizarre Adventure by Hirohiko Araki.
Our goal is to create a reference for all official material related to this ongoing series. Anyone can edit, so any help in doing so is greatly appreciated!
JoJo News!
Featured Article
Forum Feed
Featured Videos
Blog Feed
There is a U.N Owen Was Her remix dubbed over with the seiyuus' screaming in Phantom Blood. It's surprisingly fun to listen to. It's called U.N DIO was I.

Read more >

This blog is about all the theories I've been seeing as well as the general confusion about: "What do the Stand Arrows do?"

From my understanding; whatever happens to you (or your Stand) when hit by a Stand arrow depends on you at that moment. If you do not possess a Stand but still have a sufficien…

Read more >
Help Needed!
Community Links
Official JoJo Sites
Affiliates
If you would like to become an affiliate, please contact MetallicKaiser
Twitter
September 2017 Poll
Best Jo-Bro in the series?
July/August Poll Results
By 380 (37.18% of) votes,
the leader of the July/August 2018 Poll,
for Most Anticipated Fight in the Part 5 Anime (First Half), goes to
Giorno & Mista vs. Ghiaccio.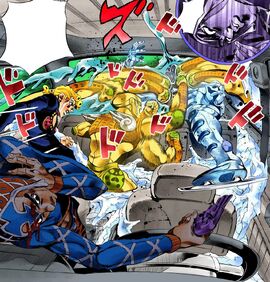 Giorno & Mista vs. Ghiaccio is a battle featured in the White Album story arc of the manga JoJo's Bizarre Adventure. 
Runners-up: Mista & Bruno vs. Pesci & Prosciutto (294 (28.77% of) votes); Bruno vs. King Crimson (146 (14.29% of) votes). The poll was created at 05:01 on July 1, 2018, and so far 1022 people voted.
September Calendar
Latest Releases
July 19, 2018JP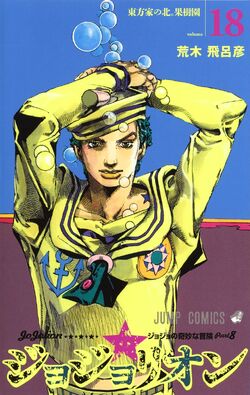 JoJolion Volume 18 (122):
North of the Higashikata Estate. The Orchard
(東方家の北。果樹園, Higashikata-ke no Kita. Kajuen)
Ch. 71 - 74
October 5, 2018JP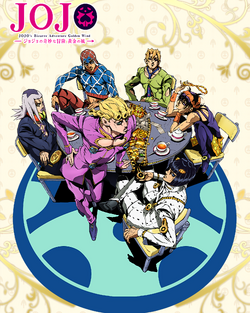 JoJo's Bizarre Adventure: Golden Wind
(ジョジョの奇妙な冒険 黄金の風, JoJo no Kimyō na Bōken Ōgon no Kaze)
Anime
July 3, 2018JP


JoJo's Bizarre Adventure: Stardust Crusaders, Part 1
(ジョジョの奇妙な冒険 スターダストクルセイダース, JoJo no Kimyō na Bōken Sutādasuto Kuruseidās)
Anime
If you see this, your JavaScript might be disabled or DiscordIntegrator plugin isn't working. If the latter, please contact a wiki administrator.