This Wiki includes spoilers of an unpredictable spread throughout articles – Please proceed with caution!
JoJo News!
Featured Article
Forum Feed
Featured Videos
Blog Feed
I just want to see what your guys favorite stand abilities are. Well if you were to ask me what my favorite stand ability would either be Sticky Finger's Zippers or Book Reading and Commands for Heavens door. For Sticky Finger's case its how versatile the ability can be, it can do a wide range of t…

Read more >

So i am new here and I have no i idea on what to do so any advice would be appreciated.

So to fill the rest of this blog I will write my own stand Idea.

So the stand is called Eye of the Tiger and its ability is to put eyes on anything even gases. The user can use these eyes like portals or use the e…

Read more >
Help Needed!
Community Links
Official JoJo Sites
Affiliates
If you would like to become an affiliate, please contact MetallicKaiser
Twitter
June 2017 Poll
Least Favorite Stand of the JoJo Protagonists?
June Calendar
May Poll Results
By 457 (61.67% of) votes,
the leader of the May 2017 Poll,
for Goofiest Character(s) in the JoJo Series, goes to
Joseph Joestar.
Joseph Joestar (ジョセフ・ジョースター, Josefu Jōsutā) is the main protagonist of Battle Tendency, a core ally in Stardust Crusaders, and a supporting character in Diamond Is Unbreakable.
Runners-up: Okuyasu Nijimura (79 (10.66% of) votes); Gyro Zeppeli (59 (7.96% of) votes). The poll was created at 22:12 on May 1, 2017, and so far 741 people voted.
Latest Releases
December 19, 2016JP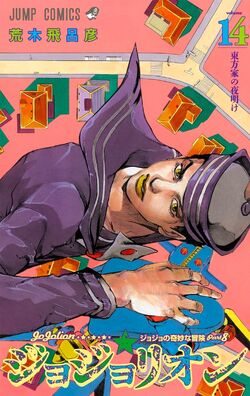 JoJolion Volume 14 (118): Dawn of the Higashikata Household (東方家の夜明け, Higashikata-ke no Yoake)
Ch. 55 - 58
June 28, 2017JP


Diamond is Unbreakable: Volume 13
Episodes: 37 - 39

Get the My Wikia App!
With Wikia's official flagship app, My Wikia, you can search for communities and add them to your home screen and read constantly evolving, deep content in a customizable format.
DOWNLOAD NOW FOR FREE!

If you see this, your JavaScript might be disabled or DiscordIntegrator plugin isn't working. If the latter, please contact a wiki administrator.