This Wiki includes spoilers of an unpredictable spread throughout articles – Please proceed with caution!
JoJo News!
Featured Article
Forum Feed
Forum Activity
Featured Videos
Blog Feed
Throughout the series, Stands have always been the occasion for Araki to draw not only weird stuff, but visually weird stuff.

For instance, Enigma, visually trippy power. (I took the anime version since DP did it justice) 

Baby Face transforms people into cubes. D4C and the sponge stuff, or even the …

Read more >

This is totally not a hate post.




who doesnt hate speedwagoan by now??? aftr u red my blog u kno what im talking a but!! thers a thing calld not liking speadw​aon and u shu​ldall' do itttt!!!!' 'his​ jus​t tooo'soooo' baddd!

and suxxyy, all he dos es neaderthal around an maek a f00l out of evr1 in joj…

Read more >
Help Needed!
Community Links
Official JoJo Sites
Affiliates
If you would like to become an affiliate, please contact MetallicKaiser
Twitter
January 2017 Poll
Most Anticipated Event Celebrating JoJo's 30th Anniversary?
January Calendar
December Poll Results
By 503 (47.14% of) votes,
the leader of the December 2016 Poll,
for Favorite Stand of the JoJo Antagonists, goes to
Killer Queen.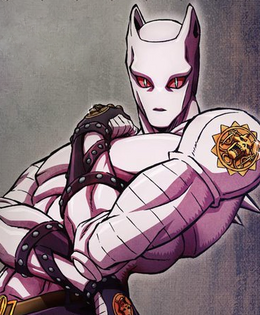 Killer Queen (キラークイーン, Kirā Kuīn) is the Stand of Yoshikage Kira, featured in Diamond Is Unbreakable.
Runners-up: Dirty Deeds Done Dirt Cheap (215 (20.15% of) votes); The World (195 (18.28% of) votes). The poll was created at 04:39 on December 2, 2016, and so far 1067 people voted.
Latest Releases
December 19, 2016JP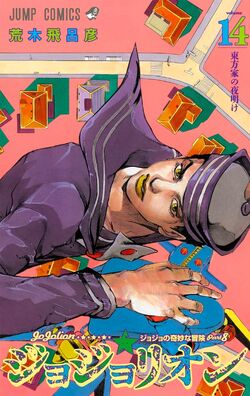 JoJolion Volume 14 (118): Dawn of the Higashikata Household (東方家の夜明け, Higashikata-ke no Yoake)
Ch. 55 - 58
January 25, 2017JP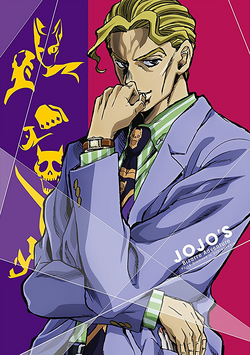 Diamond is Unbreakable: Volume 8
Episodes: 22 - 24
Get the My Wikia App!
With Wikia's official flagship app, My Wikia, you can search for communities and add them to your home screen and read constantly evolving, deep content in a customizable format.
DOWNLOAD NOW FOR FREE!

If you see this, your JavaScript might be disabled or DiscordIntegrator plugin isn't working. If the latter, please contact a wiki administrator.
Ad blocker interference detected!
Wikia is a free-to-use site that makes money from advertising. We have a modified experience for viewers using ad blockers

Wikia is not accessible if you've made further modifications. Remove the custom ad blocker rule(s) and the page will load as expected.