This Wiki includes spoilers of an unpredictable spread throughout articles – Please proceed with caution!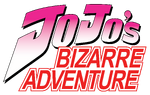 Welcome to JoJo's Bizarre Encyclopedia,
a fan Wiki dedicated to JoJo's Bizarre Adventure by Hirohiko Araki.
Our goal is to create a reference for all official material related to this ongoing series. Anyone can edit, so any help in doing so is greatly appreciated!
JoJo News!
Featured Article
Forum Feed
Forum Activity
Featured Videos
Blog Feed
This is not a hate post, in any way, shape, or form.

so, lets  go a little off topic. i men this blog is for hating on speedwagon, but i feel like im loosing 2 him.

lets talk about the best chararacter! hol Horse!! i love this character and wish he would live forever, i havnt seen him much on the sho…

Read more >

So I recently find out that Bobobo-bo bo-bobo is voiced by Takehito Koyasu the same guy who voiced Dio Brando. So now whenever I play JoJo's Bizarre Adventure: All-Star Battle or watch the anime I can't help but hear Bobobo-bo bo-bobo in Dio Brando, and whenever I play J-Stars Victory Vs or watch t…

Read more >
Help Needed!
Community Links
Official JoJo Sites
Affiliates
If you would like to become an affiliate, please contact MetallicKaiser
Twitter
February 2016 Poll
Favourite JJBA last chapter/story arc title
February Calendar
January Poll Results
By 320 (45.98% of) votes,
the leader of the January 2016 Poll,
for Best Girl in JJBA series?, goes to
Jolyne Cujoh.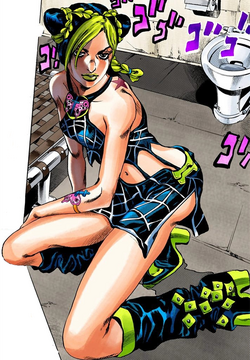 Jolyne Cujoh is the female protagonist featured in Stone Ocean, the daughter of Jotaro Kujo.
Runners-up: Lisa Lisa (148 (21.26% of) votes); Yasuho Hirose (74 (10.63% of) votes). The poll was created at 06:51 on January 2, 2016, and so far 696 people voted.
Upcoming Releases
December 18, 2015JP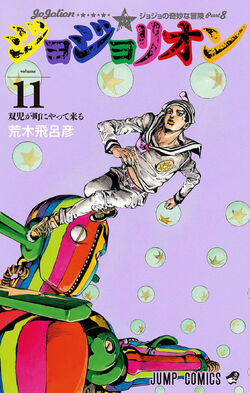 JoJolion Volume 11(115): The Twins Are Coming to Town
(双児が町にやって来る Rokakaka no Ki o Oe!)
Chapter 43 - Chapter 46
Get the My Wikia App!
With Wikia's official flagship app, My Wikia, you can search for communities and add them to your home screen and read constantly evolving, deep content in a customizable format.
DOWNLOAD NOW FOR FREE!