This Wiki includes spoilers of an unpredictable spread throughout articles – Please proceed with caution!
Create blog post

Well here are my theories on part 8......

1) Jobin Killed Kira

2) Josefumi knows something about the Rock humans

3) Soft & Wet will evolve the moment Josuke regains all of his memories

4) The unnamed man from josuke's memories played a part in the incident Six months ago along with Jobin, Josefumi, Kira, Karea and the rock humans. 

Read more >

See more >
Community Links
Official JoJo Sites
Affiliates
If you would like to become an affiliate, please contact MetallicKaiser or Bohemian King.
July 2015 Poll
Favorite Egypt 9 Glory God
March Poll Results
By 511 (40.85% of) votes,
the leader of the March 2015 Poll,
for Favorite Enemy Stand Battle of Stardust Crusaders - Season One, goes to
the Emperor and Hanged Man fight.
Emperor and Hanged Man (皇帝と吊られた男, Enperā to Hangudoman) is the eighth story arc in Part III: Stardust Crusaders.
Runners-up: Death Thirteen (269 (29.5% of) votes); The Lovers (115 (9.19% of) votes). The poll was created on March 19, 2015, and 1251 people voted.
Upcoming Releases
July 17, 2015JP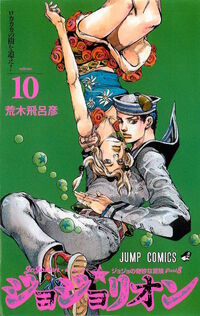 JoJolion Volume 10(114): Follow the Rokakaka Tree!
(ロカカカの樹を追え! Rokakaka no Ki o Oe!)
Chapter 39 - Chapter 42
Get the My Wikia App!
With Wikia's official flagship app, My Wikia, you can search for communities and add them to your home screen and read constantly evolving, deep content in a customizable format.
DOWNLOAD NOW FOR FREE!