This Wiki includes spoilers of an unpredictable spread throughout articles – Please proceed with caution!
JoJo News!
Featured Article
Forum Feed
Featured Videos
Blog Feed
I saw Star Platinum, and then the later Stands that were shown. They've taken hold of my imagination and now I want to see the rest of the series arc to the end.

Has anyone else become addicted to the Stands like they were the Alters?

--Traitor Hater 2000 (talk) 00:31, October 17, 2017 (UTC)

Read more >

As some of you may have known, there was once an event on this site that contained the deatails of the Steel Ball Run race featuring original character's designed by the dezinens of this site. However, for a long time the master of the aforementioned race has been inactive, even after seemingly com…

Read more >
Help Needed!
Community Links
Official JoJo Sites
Affiliates
If you would like to become an affiliate, please contact MetallicKaiser
Twitter
October 2017 Poll
October Calendar
September Poll Results
By 258 (32.53% of) votes,
the leader of the September 2017 Poll,
for Favorite Couple in JJBA, goes to
Josuke & Yasuho.
Josuke Higashikata and Yasuho Hirose are good friends hiding romantic feelings, both are featured in JoJolion.
Runners-up: DIO & Pucci (218 (27.49% of) votes); Jonathan & Erina (30 (141.78% of) votes). The poll was created at 18:14 on September 4, 2017, and so far 793 people voted.
Latest Releases
September 19, 2017JP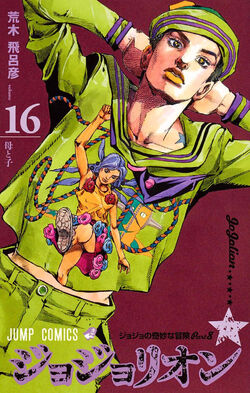 JoJolion Volume 16 (120):
Mother and Child
(母と子, Haha to Ko)
Ch. 63 - 66
September 20, 2017JP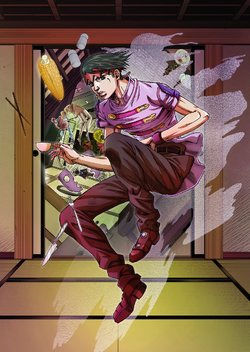 Thus Spoke Kishibe Rohan
(岸辺露伴は動かない, Kishibe Rohan wa Ugokanai)
OVA
October 25, 2017JP


JoJo Complete Collection: Volume 3
Episodes: 27 - 50

Get the My Wikia App!
With Wikia's official flagship app, My Wikia, you can search for communities and add them to your home screen and read constantly evolving, deep content in a customizable format.
DOWNLOAD NOW FOR FREE!

If you see this, your JavaScript might be disabled or DiscordIntegrator plugin isn't working. If the latter, please contact a wiki administrator.