This Wiki includes spoilers of an unpredictable spread throughout articles – Please proceed with caution!
JoJo News!
Featured Article
Forum Feed
Forum Activity
Featured Videos
Blog Feed
Potential Movie Ideas

Now I know what everyone is thinking, with the most recent announcement about the Live Action Movie adaption to the 3rd story arc to JBA Stardust Crusaders. Now just as a Diclaimer this has nothing to do with that. This is just a few many Ideas that i've had over the months on …

Read more >
Help Needed!
Community Links
Official JoJo Sites
Affiliates
If you would like to become an affiliate, please contact MetallicKaiser
Twitter
June 2016 Poll
Best Primary Henchman serving under a Main Antagonist?
June Calendar
May Poll Results
By 187 (37.63% of) votes,
the leader of the May 2016 Poll,
for What One-Shot or Novel (disregarding canonicity) would you like to see adapted as an OVA?, goes to
Purple Haze Feedback.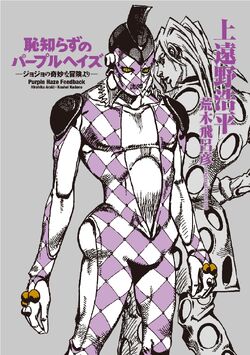 Purple Haze Feedback is the light novel written by Kouhei Kadono with illustrations by Araki Hirohiko, based on characters and events from Vento Aureo.
Runners-up: Jorge Joestar (145 (29.18% of) votes); Dead Man's Questions (70 (14.08% of) votes). The poll was created at 20:08 on April 30, 2016, and so far 497 people voted.
Upcoming Releases
March 18, 2016JP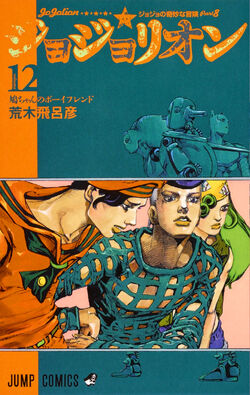 JoJolion Volume 12(116): Hato's Boyfriend
(鳩ちゃんのボーイフレンド Hato-chan no Bōifurendo)
Chapter 47 - Chapter 50
July 27th, 2016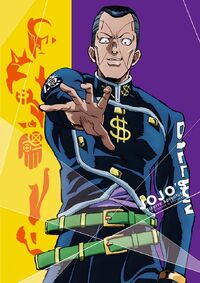 Diamond is Unbreakable: Volume 2
Episodes: 4 - 6
Get the My Wikia App!
With Wikia's official flagship app, My Wikia, you can search for communities and add them to your home screen and read constantly evolving, deep content in a customizable format.
DOWNLOAD NOW FOR FREE!