Terumi Nishii (西位 輝実, Nishii Terumi) is a Japanese animator credited as the chief animation director and character designer for JoJo's Bizarre Adventure: Diamond Is Unbreakable by David Production.[1]
Graduating from Osaka College of Design, Nishii was an animator previously affiliated with Studio Cockpit before working freelance. She and Mitsuko Baba are often cited as the right-hands of Yoshihiko Umakoshi, the three of them having very similar character designs.[2]
Nishii's work consists primarily of animation and publishing dōjinshi, most notably "Crown of Uroboros."
Works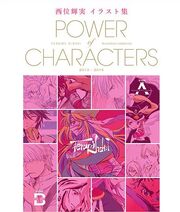 JoJo's Bizarre Adventure: Diamond Is Unbreakable

Character Design
Chief Animation Director
Animation Director (eps 1, 3, 29, 32, 34-36, 38-39)
Animation Director Cooperation (ep 30)
Key Animation (eps 32-33, 36)
2nd Key Animation (eps 13, 33, 39)
Opening Animation - Animation Director (OP 2, OP 3)
Opening Animation - Executive Animation Director (OP 1)
Ending Animation - Animation Director (ED 1)
Eyecatch Illustration (eps 1, 5, 9, 15-16, 19, 22, 24, 26, 32, 35, 37-38)
Gallery
Eyecatch Illustrations
Promotional Artwork (Original Picture 原画)
Personal Artwork (Property of Terumi Nishii)[3][4]
References
People
David Production
Animators & Other Animation Staff
Music Artists