Terumi Nishii (西位 輝実, Nishii Terumi) is a Japanese animator credited as the chief animation director and character designer for JoJo's Bizarre Adventure: Diamond Is Unbreakable by David Production.[1]
Graduating from Osaka College of Design, Terumi was an animator previously affiliated with Studio Cockpit before working freelance. Her work consists primarily of animating, directing animation and publishing dōjinshi, most notably "Crown of Uroboros."
Works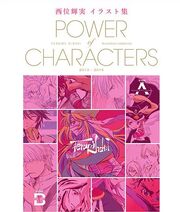 JoJo's Bizarre Adventure: Diamond Is Unbreakable

Character Design
Chief Animation Director
Animation Director (eps 1, 3, 29, 32, 34-36, 38-39)
Animation Director Cooperation (ep 30)
Key Animation (eps 32-33, 36)
2nd Key Animation (eps 13, 33, 39)
Opening Animation - Animation Director (OP 2, OP 3)
Opening Animation - Executive Animation Director (OP 1)
Ending Animation - Animation Director (ED 1)
Eyecatch Illustration (eps 1, 5, 9, 15-16, 19, 22, 24, 26, 32, 35, 37-38)
Gallery
Eyecatch Illustrations
Promotional Artwork (Original Picture 原画)
Personal Artwork (Property of Terumi Nishii)[2][3]
References
Ad blocker interference detected!
Wikia is a free-to-use site that makes money from advertising. We have a modified experience for viewers using ad blockers

Wikia is not accessible if you've made further modifications. Remove the custom ad blocker rule(s) and the page will load as expected.