Thus Spoke Kishibe Rohan (岸辺露伴は動かない, Kishibe Rohan wa Ugokanai, lit. Rohan Kishibe Does Not Move!) is an OVA adaptation of the eponymous series of one-shots, specifically Thus Spoke Kishibe Rohan - Episode 5: Millionaire Village, featuring Diamond is Unbreakable character, Rohan Kishibe.
The OVA was announced on April 15, 2016 and will be produced by David Production. The full promotional DVD will be made exclusive to applicants who have purchased the entirety of the Diamond is Unbreakable Blu-Ray or DVD set before the deadline of July 31, 2017.
Cast
Plot
The story centers around Rohan Kishibe and his miscellaneous adventures, ending up in bizarre situations or meeting intriguing people. It's currently unknown if the OVA will only adapt Millionaire Village or will feature bits and pieces of the other one-shots as well.
Gallery
PV
On July 28, 2017, Tokyo MX aired a 60 second PV for the OVA. It was broadcasted during the commercial break of RWBY (at 25:05 JST).[2]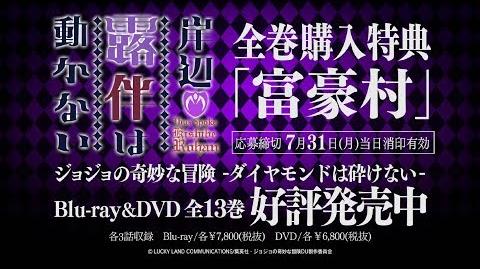 Trivia
This is the first JoJo OVA to be released in over a decade, the last being the Stardust Crusaders prequel OVAs from the early 2000's.
Despite being released with the Part 4 anime, the OVA opts for an art style closer to the one-shot it's adapting.
References